Mega Mutants - Teenage Mutant Ninja Turtles (Playmates) Checklist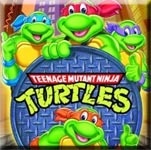 COWABUNGA!! Its time to munch on some pizza and fight foot! Playmates released the TMNT line in 1988 and has ever since held a place in the hearts of fans around the world. The original figures came with an arsenal of weapons and accessories each character specific. All the characters from the comics and TV series were featured in the toy line as well as original characters.
Playmates didn't stop with just animation and comics, with the releases of the various TMNT movies new figures appeared. The movie figs each had exclusive effects that set them apart from the other lines such as real feel skin and movie accurate molds. Along with movie figs playmates released animated figures that were exact makes of the figures from the cartoon. These figures each had a "cartoon features" like spinning heads and twirling hands.
Subseries for Teenage Mutant Ninja Turtles
1988 - Accessories, 1988 - Basic Figures, 1989 - Accessories, 1989 - Basic Figures, 1990 - Accessories, 1990 - Basic Figures, 1991 - Accessories, 1991 - Basic Figures, 1992 - Accessories, 1992 - Basic Figures, 1993 - Accessories, 1993 - Basic Figures, 1994 - Accessories, 1994 - Basic Figures, 1995 - Basic Figures, 1998 - Basic Figures, 1999 - Basic Figures, 2013 - Accessories, 25th Anniversary, Adventurers, Apollo 11, Auto Mutations, Bodacious Birthday Turtles, Cave Turtles, Coil Force, Cyber Samurai, Dino Turtles , Disguised Turtles, DVD, Farmer Turtles, Giant Movie Star Turtles, Giant Mutations, Giant Size, Giant Trolls, Headdroppin' Dudes, Jim Lee TMNT, Kowabunga Crackin' Turtle Egg, Kung-Fu Turtles, Mail Order, Mega Mutants, Metal Mutants, Mighty Mutations, Mini Mutants, Movie Star Turtles, Muta Force, Mutant Masters, Mutant Military, Mutant Military - Accessories, Mutant Military II, Mutations, Mutations - Accessories, Ninja Action Turtles, Ninja Power, Ninja Shooters, Pizza Tossin' Turtles, Plush, Practice Pals, Repro, Road Ready Mutations, Rock 'N Rollin' Turtles, Role Play, Sewer Heroes, Sewer Spittin' Turtles, Sewer Sports Allstar Turtles, Sewer Sports Balls, Shogun Turtles, Smash 'em Bash 'em Figures, Star Trek Turtles, Storage Shell Turtles, Stretch Turtles, Sumo Turtles, Super-Mutants, Surfin' Ninja, Talkin' Turtles, Toon Turtles, Troll Turtles, Turtle Battle Fun Sets, Turtle Games, Undercover Turtles, Universal Studios Monsters, Wacky Action, Wacky Wild West Turtles, Warriors, Warriors of the Forgotten Sewer, All
Mega Mutants

Teenage Mutant Ninja Turtles

-

Mega Mutants

Released in 1990 by Playmates

The Psychotic Stinging, Pollinating Punk! * Moveable Mutant Bee Wings! Six Articulated Arms & Legs! * Deadly Drone Gun! * Chunky Chain Saw! Born a bee and bred to be bad, the Killer Bee is the b. . .

Teenage Mutant Ninja Turtles

-

Mega Mutants

Released in 1990 by Playmates

The Bloodsucking Military Mutant Mosquito! * Moveable Insect Wings! Six Articulated Arms & Legs! * Two Air-to-Air Bee-seeking Missiles! * Mega Machine Gun! Needlenose, mosquito or jet fighter? H. . .

Report Corrections for this Checklist.

Show Thumbnail Pictures As (if available):
Loose
or
Package
Teenage Mutant Ninja Turtles For Sale