Dinosaurs - Cadillacs and Dinosaurs (Tyco) Checklist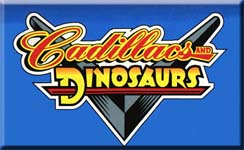 Cadillacs & Dinosaurs is set in the Xenozoic Era - the 26th Century. Here humanity must rebuild civilization in a world where dinosaurs rule the wilderness and lawless bands of criminals prey on the weak - a world where Jack "Cadillac" Tenrec battles the evil poacher, Hammer Terhune, in his classic 1953 Cadillac convertible.

Report Corrections for this Checklist.

Show Thumbnail Pictures As (if available):
Loose
or
Package
Cadillacs and Dinosaurs For Sale