Basic Series - Batman Beyond (Hasbro) Checklist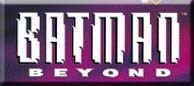 In the dawn of the new millenium, Bruce Wayne has retired from crimefighting. A different breed of villains now terrorizes the streets and Gotham City cries out for a new hero. When young Terry McGinness discovers the Batcave and Bruce Wayne's true identity, he seeks to become that hero. Under Bruce Wayne's guidance and training, an experimental, cutting-edge suit provides Terry the strength and skills needed to handle the challenge he now faces as... the Batman Beyond.

Report Corrections for this Checklist.

Show Thumbnail Pictures As (if available):
Loose
or
Package
Batman Beyond For Sale