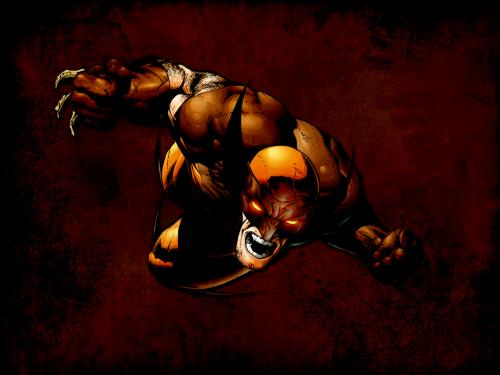 Name:
Wolverine
Real Name:
James Howlet
Aliases:
Logan, Jeremiah Logan, Patch, Weapon X (Ten), Death, Mutate #9601, Emilio Garra, Weapon Chi, Experiment X, Agent Ten, Peter Richards, Mai' keth, Black Dragon, Captain Canada, Captain Terror, John Logan, Jim Logan
Publisher:
Marvel
Height:
5'6
Weight:
300 lbs. (with adamantium)
Race:
Human Mutant
Sex:
male
Origin:
Canada
Base of Operations:
Mobile, typically X-Mansion
Created By:
Len Wein and John Romita Jr.
Actors:
Hugh Jackman
1st Appearance:
The Incredible Hulk #180
Universe:
Marvel
Affiliations:
X-Men,New Avengers,S.H.I.E.L.D,Horsemen of Apocalypse,Alpha Flight,Weapon X,Weapon Plus,Department H,Hydra,The Hand,
Powers:
Regenerative healing factor,Superhuman senses, strength,stamina, agility, and reflexes,Adamantium-laced skeletal structure with retractable claws,Resistance to telepathy,Expert martial artist

For most of what he remembers of his life, Wolverine was called Logan. Gifted with the mutant abilities to rapidly heal from almost any wounds and heightened sense, he was the perfect test subject for the covert organization, Weapon X Program.

Kidnapped, Logan is experimented upon by the various "doctors" of the program. Eventually, his skeleton was bonded to the nearly indestructible metal alloy, Adamantium, which had the unintentional side effect of greatly reducing his healing factor.

Soon afterwards, Logan escaped, killing almost everyone in the Weapon X Program compound, and vanished into the Canadian Rocky Mountains in a feral state.

After regaining his humanity, Logan fell under the control of Department X of the Canadian Government and dubbed Wolverine.

One of his first missions involved stopping the rampaging Hulk and Wendigo who had crossed the US/Canadian borders. The battle did not fair well for Wolverine, who lost after a brutal fight.

Afterwards, he recruited by Professor X to form a new band of X-Men to save the original team from death. Disillusioned with the Canadian Government, Wolverine readily excepts.
Last updated by MCollector on July 29, 2018.