Harvey Bullock
Name:
Harvey Bullock
Publisher:
DC Comics
Height:
5' 10"
Weight:
112 kg
Race:
Human
Sex:
Male
Origin:
Comic book
Base of Operations:
Gotham City
Created By:
Archie Goodwin & Howard Chaykin
1st Appearance:
Detective Comics #441
Universe:
DC
Affiliations:
Gotham City Police Department


A formerly corrupt cop in charge of keeping an eye on Commissioner Gordon, Bullock soon changed sides and became loyal to Gordon. He barely tolerates Batman, but Deep down they feel a mutual respect.

Last updated by DAMartin on March 1, 2019.
Additional Pictures of Harvey Bullock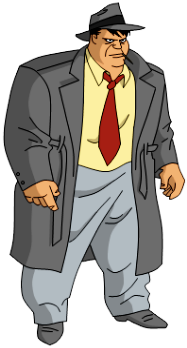 All Produced Harvey Bullock Action Figures
Year

Manufacturer

Series

Subseries

Name

2016
Diamond Select
Gotham
Basic Figures
Harvey Bullock

1 Action Figures Produced
Contribute
Did Spider-Man own a dog? Has the Witchblade ever possessed a man? Is Iron Man naked under his armor? You get to share your knowledge with everyone by contributing what you know. We try to fill-in as much info as we can, but it's up to you to fine-tune the Character Profiles, so please, help us out!

Contribute Profile Information for Harvey Bullock.
User Comments
Xmen on eBay