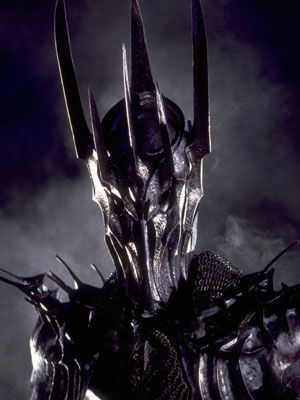 Name:
Sauron
Aliases:
Servant Of Morgoth, Mairon, Annatar, Artano, Gorthaur the Cruel, the Enemy, the Dark Power, the Great Eye (TA only), the Necromancer, the Lord of the Ring, the Sorcerer, the Black Hand, the Nameless Enemy, Thauron, Thû, Sauron the Great, Sauron the Deceiver
Publisher:
New Line Cinema
Height:
9 feet.
Race:
Maia
Sex:
Male
Base of Operations:
Mordor
Created By:
J.R.R.Tolkien
Actors:
Sala Baker, Alan Howard (voice), Benedict Cumberbatch (voice)
Universe:
Lord of the Rings
Affiliations:
Morgoth
Powers:
The Ring of Power. Among Sauron's chief powers were deception and disguise: In the First Age Sauron took on many forms. His battle against Luthien and Huan in The Silmarillion has him taking on no less than four separate shapes: his "normal" shape, presumed to be that of some kind of terrible dark sorcerer, a great wolf, a serpent, and finally a vampire "dripping blood from his throat upon the trees" ("Of Beren and Lúthien," The Silmarillion). At the end of the First Age, Sauron took on a fair form to appeal to the Captain of the Hosts of the Valar and ask for pardon. In the Second Age, Sauron took up that fair form again and used it under the alias "Annatar" to deceive the Elves into creating the Rings of Power. The level of deception required to fool the Elves of Eregion must have gone beyond simply taking on a fair form. Sauron was literally instructing the Elves to make artifacts that while capable of great good, were ultimately purposed for his own domination and were imbued with power to arrest the natu

Sauron is the title character and main antagonist of J. R. R. Tolkien's The Lord of the Rings. In the same work, he is identified as the Necromancer, mentioned in Tolkien's earlier novel The Hobbit. In Tolkien's The Silmarillion he is also described as the chief lieutenant of the first Dark Lord, Morgoth. Tolkien noted that the "angelic" powers of his constructed myth "were capable of many degrees of error and failing", but by far the worst was "the absolute Satanic rebellion and evil of Morgoth and his satellite Sauron"
Last updated by 1000thghost on February 1, 2017.