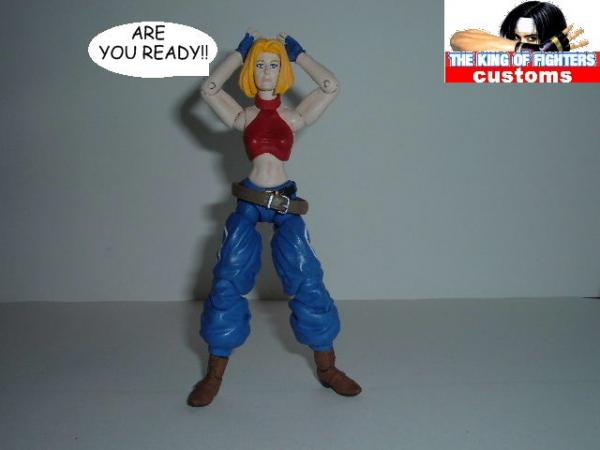 HERE COMES THE NEXT CHALLENGER....BLUE MARY.
BLUE MARY IS A PLAYABLE CHARACTER FROM SNK'S FIGHTING VIDEO GAME SERIES, FATAL FURY,
REAL BOUT,CARD FIGHTERS, AND OF COURSE KING OF FIGHTERS.

The lovely Blue Mary was introduced in Fatal Fury 3 as one of the new characters in the game and appears in all the games in the Real Bout series. She is a freelance secret agent who joins OUTLAW TEAM in the King of Fighters tournaments 97, 98, 02, The WOMAN FIGHTERS TEAM in 99,03, and the FATAL FURY TEAM in 2000, 2001. In these tournaments Mary usually has her own agenda of collecting information or cashing in on as a bounty hunter. Blue Mary's fighting style is Combat Sambo / Grappling / Akido in which she uses to crush her fellow competitors along side two of the most dangerous men in the SNK universe without sweating a thing.

BLUE MARY WAS CUSTOMIZED FROM A ML PSYLOCKE UPPER BODY, SOTA SF IKUBI LEGS, WWE WRESTING WOMAN ARMS, LOTR WOMAN HEAD, AND OTHER FIGURE ODDS & ENDS.

CUSTOMIZER SIDE NOTE: HERE IS MY NEW KING OF FIGHTERS CUSTOM SERIES. KOF HAS BEEN
AROUND FOR LIKE 15 YEARS YET NO HUGE ROSTER OF ACTION FIGURES. ONCE IN WHILE SOME COMPANY PUTS OUT A COUPLE OF FIGURES, BUT NO COMPLETE TEAM SETS...WELL I'M TRIED OF IT. THE TIME HAS COME FOR THE CHARACTERS OF THIS GREAT FIGHTING GAME TO HAVE FIGURES EVEN IF THEY ARE JUST CUSTOMS. EVERY MONTH I WILL TO THE BEST OF MY ABILITY I WILL UNVEIL CHARACTER ACURATE,SCALED VERSION 3 PERSON TEAM SETS, MAYBE DOWN THE LINE I'LL MAKE THE ALTERNATES. SO FOR THE MONTH OF JANUARY IT'S THE OUTLAW TEAM...SEE YOU IN FEBRUARY FOR THE NEXT TEAM.