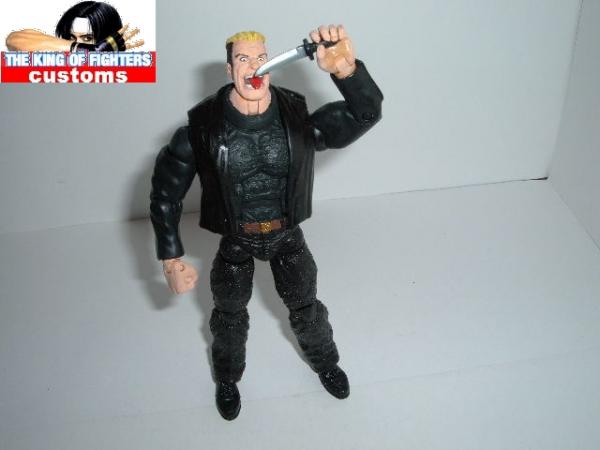 HERE COMES THE NEXT CHALLENGER....RYUJI YAMAZAKI.
RYUJI YAMAZAKI IS A PLAYABLE CHARACTER FROM SNK'S FIGHTING VIDEO GAME SERIES, FATAL FURY, REAL BOUT,AND OF COURSE KING OF FIGHTERS.

The Yakuza brawler Ryuji Yamazaki was introduced in Fatal Fury 3 as one of the new characters in the game. Orphaned young, Yamazaki survived the streets by being tougher than anyone else. This brought him to the attention of a Yakuza boss that used Yamazaki like a weapon, all the boss did was point and Yamazaki would make sure bodies hit the floor. After the death of that Yakuza boss, Yamazaki became a split personality intelligent one moment, blood thirsty beast the next. Fighting became Yamazaki's only outlet to control the beast, so Yamazaki fought cops, crime syndicates, martial arts dojos, or just anyone he could get his hands on. So came The King of Fighters tournament in which Geese offered to pay Yamazaki to join Billy Kane on the OUTLAW TEAM. He also joined in 98, 02, and 03, it was in KOF that he found out that he was desendant of evil orochi blood which was the true reason for his mad personality. Yamazaki's fighting style is mostly street brawling with a little Karate mixed in and a whole lot of dirty tricks up his sleeves or in his pockets.

RYUJI YAMAZAKI WAS CUSTOMIZED FROM A SMC SANDMAN, WWE WRESTLER ARMS with 2 different pair of hands, SMC KRAVEN HEAD, AND OTHER FIGURE ODDS & ENDS.
(HE will eventually get an alternate grinning head)

CUSTOMIZER SIDE NOTE: HERE IS MY NEW KING OF FIGHTERS CUSTOM SERIES. KOF HAS BEEN
AROUND FOR LIKE 15 YEARS YET NO HUGE ROSTER OF ACTION FIGURES. ONCE IN WHILE SOME COMPANY PUTS OUT A COUPLE OF FIGURES, BUT NO COMPLETE TEAM SETS...WELL I'M TRIED OF IT. THE TIME HASCOME FOR THE CHARACTERS OF THIS GREAT FIGHTING GAME TO HAVE FIGURES EVEN IF THEY ARE JUSTCUSTOMS. EVERY MONTH I WILL TO THE BEST OF MY ABILITY I WILL UNVEIL CHARACTER ACURATE,SCALED VERSION OF THE 3 PERSON TEAM SETS, MAYBE DOWN THE LINE I'LL MAKE THE ALTERNATES. SO FOR THE MONTH OF JANUARY IT'S THE OUTLAW TEAM...SEE YOU IN FEBRUARY FOR THE NEXT TEAM.