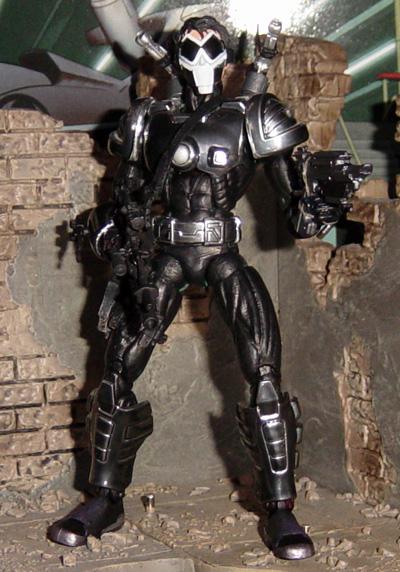 Frank Castle knew he would need some heavy artillery down the line, for extreme situatons, so he raided one of Stark's tech-depots, with help from Microchip of course, back when Micro wasn't, you know, dead. He was expecting to find some fun guns but he never expected to find a fully-loaded War Machine suit! Frank loaded it into the Battle Van and back to Micro so he could remove any inhibitors or tracing devices. It was placed in storage and forgotten, that is until the day Iron Man decided to play hero-hunter and start a civil war. But when ol' Frank went looking for it, it was gone; A note left in it's place:

"Stark says Hi. Hopes to meet you soon. -Tom"

Blast you Tom Jane! What have you done!

---

You should keep every single accessory that comes with your figures, you never know when they'll come in handy! The armor bits are from the old 90's animated War Machine figure. Thanks to Ratboy for tossing me his ol' dremel, it helped tremendously because of all the grinding I had to do to make the armor fit right.

-Ground off so much plastic from the base figure (Iron Fist) to allow the armor pieces to "snap on" to the shins (XMC "Magneto") and waist.

-Drilled holes on top of the forearms (FO Red Skull) to slip in the armor's peg (the pegs broke off from the shin/belt armor, that's why I had to dremel those areas).

-I almost obliterated the upper-body and neck with dremeling but I managed to get the chest/back pieces to fit and hide the scars. No pegs on these pieces either so I glued them on.

-The shoulder-pieces didn't have pegs either, and there is no way I can figure to make them stay on and pivot a little when I more the arm. I stuck some gum on the shoulders and put on the armor and let it dry. Now the armor is stuck on and it has a little pivoting action (and minty action too :D )

-The mask is a repainted gas-mask thing from a Batman Begins Scarecrow figure. I think it's nifty, it "snaps on" to the face like glasses and it looks like a decent skull.

-There were holes in the wrist-armor so I slipped in some twin-barreled laser-gun things, not sure form where but they look great and are removeable. There's a hole in the shoulder-armor too but I haven't found anything to stick in there. Let's just say the weapons there are hiding in the armor for now. The back-armor has two cannon-things but I stuck in some old Wasp rocket-things and now they're fully-poseable and removeable plasma cannons. Guns/ammo are from McFarlane Military, Danger Girls, and War Zone kicked Spawn's ass and took his giant guns.

-All the articulation was kept and I made the index fingers individually articulated so he can hold weapons correctly. Don't let the dark pictures fool you, this thing looks awesome, you can't even see the little spots I missed at the joints, hah.