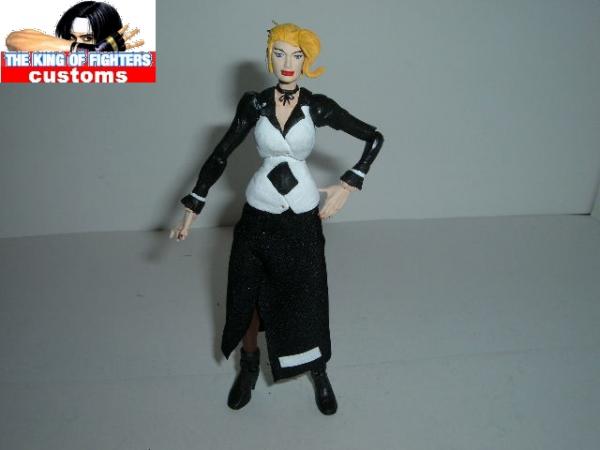 Here comes the next challenger: mature.
mature is a playable character from snk's fighting video game series, the king of fighters.

mature is one of the hakkesshu, an organization intent on resurrecting the orochi. A spy for the hakkesshu, mature became a secretary to rugal bernstein, a man seeking the power of the orochi for himself. After rugal seemingly died at the end of the 1995 kof tournament, mature went on to her next mission in the 1996 tournament of becoming the teammate of iori yagami, a man who is a direct bloodline descendant of the orochi and one of the protectors of its seal. At the end of that tournament, iori entered the riot of the blood that made him go berserk and seemly killed both vice and mature. After a long recovery, mature returned to iori's side in the king of fighters 2002 tournament, where again she was thrashed to the point of death by yagami.
mature is a vain and cruel person who takes pleasure in toying with her victims often by using her sexuality and while she is usually partnered with the woman called vice, they really don't like each other much. As fighters in the kof both vice and mature have only been in the 1996 and 2002 tournaments with iori yagami as their teammate.
mature's fighting style is speed attacks mixed with slashing attacks.

mature was customized from a hml emma frost, a ml psylocke head, and sculpting.

customizer side note: here is my new king of fighters team for the month of may, the iori yagami team featuring vice, mature, and my personal favorite, mister iori yagami. Not to toot my own horn, but in scale and character likeness i think this team came out really good and i am so happy with the way all three came out, especially iori who for the most part has a hard character design. Well that's it for the month of may, so i'm off to work on the june team that's due in a couple of weeks.