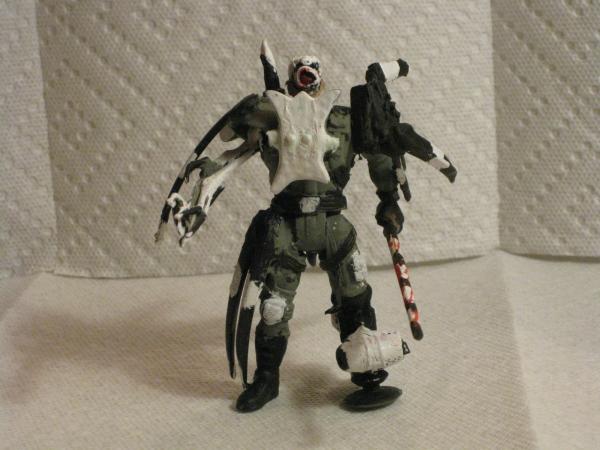 The Necrotic WarBorg Commander is my first Custom, and looks like it. However, it's interesting to see the progress, so I figured that my future fans might like looking and and seeing what started it all.

For this delicious treat of a custom, you will require:
- An unidentifiable dog-disfigured Soldier figure with articulation points at the neck, shoulders, and legs.
- A Plastic Comb
- A Plastic Fork
- A Hair Pin
- A Battle Bots Figure
- A Lost In Space Robot Miniature
- A Kinder Egg Robot Toy
- An Axe Head I Found Torn Off Some Poor Figurine

Being my first custom, it was honestly a bit of a hack job. I didn't even know there WAS a right way to do this, so I just chopped off one leg at the knee, tore an arm off, literally hammered everything else into pieces, and hot-melted the God out of the poor thing. Then I used Acrylics and a medium-sized paintbrush to make it look a little less repulsive. And heck, from a distance, it worked.

BACKSTORY:
Part of my "In Defense of Death" Series (Yes, I've named my Custom series, pompous, I know), WarBorgs are near-dead soldiers brought back to life through technology by well-meaning but ill-experienced hackers-turned-medics. However, their shell-shocked minds snapped by near-death by war, the WarBorg reverts to his most primal form- the Animal. Hunting in packs and heavily armed, WarBorgs scour Earth in search of very little. Having no physical sensation for their near-death, they can only feel one thing- the thrill of a kill.