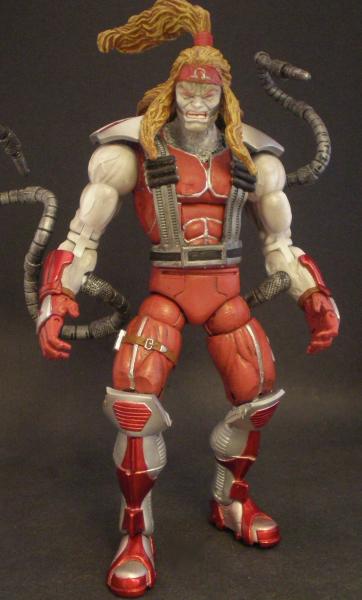 Funny story. This guy started out as an attempt to make Omega Red shorter, and he ended up like an inch taller. I really like the result though. He looks a lot stockier now I think, also it looks like he's got cool chest armor.

Head, Shoulders, Arms, Knees down, tentacles, and chest strap - ML Omega red
Torso, Thighs - XMC Tech Beast
Shoulder Pads - HML Lord Thor

Now, I thought this would be a simple parts swap, but that wasn't to be. The legs did not fit together well and required a lot of grinding. The arms were an even bigger problem. The O.R. pegs fit into the torso just fine, but they were left really loose. Thankfully, O.R. has those lat joints/shoulder sleeves, so I tore those out of him, dremeled some holes into tech beast, and inserted the shoulder sleeves into him, giving him the same arms connections that O.R. has.

Full repaint with citadel paints. He'll be available later this week.