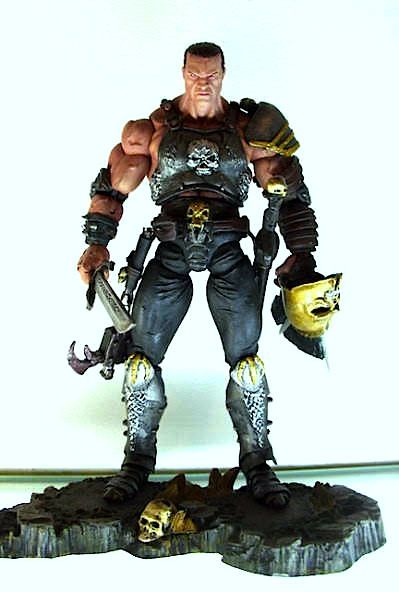 "Ares, to gory strife he speedeth, wroth with foes, when maddeneth his heart, and grim his frown is, and his eyes flash levin-flame around him, and his face is clothed with glory of beauty terror-blent, as on he rusheth: quail the very gods."


Kitbashed accesories: mcfarlane and lord of the rings figs

1. Helmet- sculpted skull and hair over a dremmeled-down diamond select accessory, from leo figure of charmed tv series. Knives are from legolas lotr fig. Designed with a grip at base, to be used as a weapon.

2. Weapons- kitbash mcfarlane accesories

Sculpted parts
Face, hair, muscles (except for biceps), wristband, chest plate, groin guard, shin guard, kneepad, inner leather sleeve

Loosely based on marvel's ares, this figure's design is inspired by mostly by greek mythology. Ares was known to be lightly armored. And sometimes even lightly clothed or half-naked, having only his golden helm and spear on hand.

Symbols on his armor:
Vulture
- Talons on the knee guard, and wings on breast plate
- One of his favorite animals. They feed on the rotting bodies left on the battlefield
Skull
- Death and war go hand in hand
Dracon
- A serpent-llike creature, was said to be his son.
- In honor of his son's death he had the dracon's scales forged on his shin guard and breastplate; and had the head forged on his back (it's like he's saying "watch my back son" hehe).