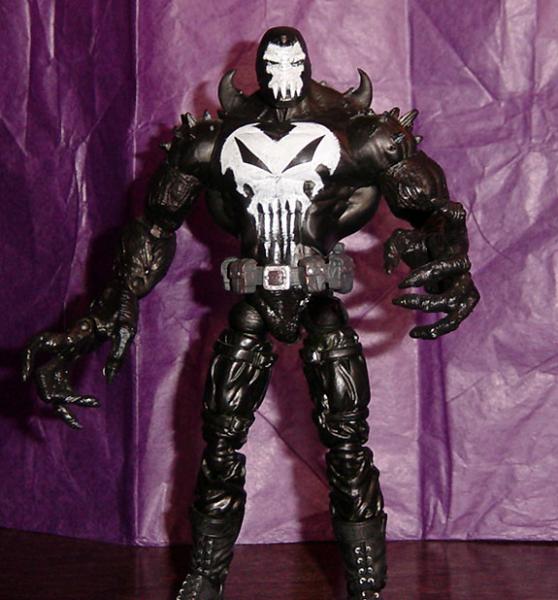 In a last-ditch effort to save the woman he lov- he doesn't mind to have hanging around, Frank Castle made a deal with the symbiote known as Venom: Let the girl go safely and Frank would become the symbiote's new host, complete with all his combat knowledge and fierce intelligence, an engine of destruction which the alien-being could use for whatever purpose it desired. How could it say no?

"Frank...you're an idiot"

"And you're the idiot in love with the idiot. Now run."

"Always the romantic..."

He thought he could control it, but we've all heard that one before...

-------

Fine, thin story, border-line believable, but it works 8) I was going to make a cool Punisher out of the XMC Sabretooth, but then I saw the ugly Toxin and spare Doomsday body lying around and figured, why not?

-Upper body and head is from DCSH Doomsday, ground-off the chest's bone detail and sculpted a new head/face with some "hair detail", I left the bony plates on the forehead visible. Sculpted the claw-like things on the shoulders too. Attached to Toxin's crotch with a screw.

-Crotch and arms are from Toxin (Sabretooth's crotch/waist didn't look right with Doomsday's body). Arms were painted black then attached to the shoulders with screws.

-Legs are from Sabretooth, painted black, also attached to the hips with screws.

-Belt is from Captain America.

-Painted it all black, then painted the face white and gave it a light black wash. I free-handed the skull and it turned out better than expected (although maybe too neat?). The eyes are just pieces of black tape, so I can change their style anytime I want!

-Figure kept all poseability.

There's a picture of how he looked in the Marvel Civil War comic, I tried to give him that hooded appearance but that meant eliminating head movement! So I got as close as possible. He wasn't really Venom in the comic, it was just Spidey seeing Punisher in the sewers and hallucinating after being beaten to a pulp by some bad guys.