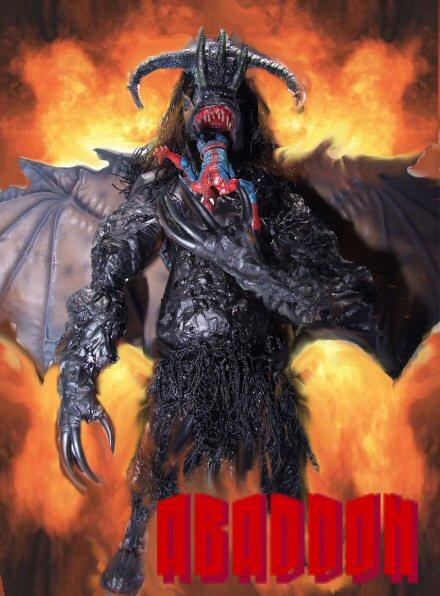 | | |
| --- | --- |
| Custom #: | 3072 |
| Name: | Abaddon -King Of The Bottomless Pit |
| Custom Type: | Action Figure |
| Toy Series: | Original |
| Creator: | deadeye |
| Date Added: | June 28, 2007 |
| Base Figure: | ML Giantman, ML Blackheart, ML Onslaught parts and Scratchbuild |
| Height: | 20.00 inches |
from Revelations/Apocalypse 9

"And they had tails like to scorpions, and there were stings in their tails; and their power was to hurt men five months.
And they had over them A king, the angel of the bottomless pit; whose name in Hebrew is Abaddon, and in Greek Apollyon; in Latin Exterminans, One woe is past, and behold there come yet two woes more hereafter."

I stood at the lips of the Abyss and stared into its depths, and the Abyss stared back.
For it was a living thing that rose to meet me, towering some 50 feet over me.
There stood before me MIGHTY ABADDON - King of the bottomlees pit - a demon of miners, a demon of pitch tunnels, a demon of black raw iron ore and Coal
Its skin was cragged, solid, but uneven - as if hewn from living volcanic rock.
its sweat ran down these flesh fissures with a black, oozing, viscosity - giving off dark iridescence
It appeared to perpetually bleed crude oil

The army that fought it was struck by its huge forepaws - giant, Pangolin-like claws ran these heroes through - their outer bodies instantly disintegrating in clouds of black dust.
Bone, Muscle, Flesh and armor all fell away to leave their screaming souls impaled upon them.

Then its Maw opened to laugh at the carnage, a sound like a mocking cave-in was heard and its started to consume its prey - two rows of yellowing stalagmite-like teeth crunched down again and again on the soul feast of its claws and they burned forever in the furnace of its stomach...

Abaddon's stomach looked to be covered in boulder-like warts but all too soon I realised, that these were actually the petrified screams of the souls it had eaten.
A burning soul tried to burst from its stomach like a lava spout - only to rapidly cool on the oily mountainside - their expressions on their screaming faces were etched in sheer terror and torment frozen in place upon its gut - like heads on a trophy wall....

It cracked its bat-like wings and a sound like that of twin gigantic, rusting gates opening was heard.
And again it laughed...and it was the sound of an avalanche...




Recipe

Lol a lot of carpet tape baking foil and toothpicks

Tyrant Claws, Onslaught hooves, Giantman parts and scratchbuilt horns and warty protrusions
Wings were taken casts from a demon statue...