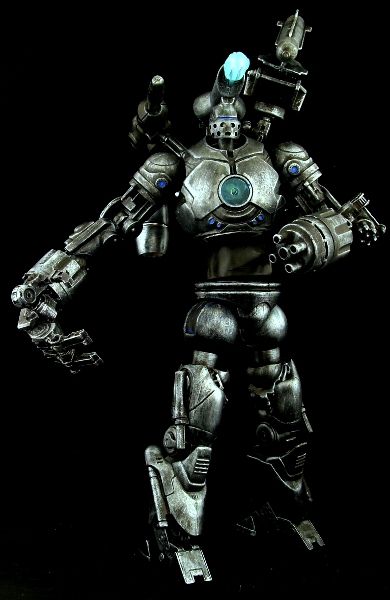 Hey guys, tryna get out some of these unfinished customs. This guy was one of three I was working on for the Armored Up Contest. He's an Iron Monger dull gray version. I was just going to paint him but the lack of articulation in an otherwise cool sculpt was driving me insane.
So, I cut him in half, cut off the legs, drilled out the legs, and added two ball joints from a broken ML Galactus BAF I got in a fodder lot giving his thighs and hips a swivel and ball joint. I then took a Four Horsemen Ramathor's torso, ( the factory defects), and shaved it down, modded the joints, added an LED light, then attached it, with all kinds of fodder and fabricated little pieces, to the upper and lower torso. It was then I noticed the arms were kind of short. So I added some ball joints and other pieces I shaved down from a bionicle, bought two cap guns, glued the pieces together, dremeled the peg holes in his wrists and attached them. I then took the bionicle's ankles, wrists, and hands and cut and glued and epoxied a larger hand that now has 5pts. of articulation. I got the head off an Iron Man Movie Tony Stark with a removable face shield that I glued together and added a plastic strip for mouth piece. Yep, that's Robert Downey under there! Now I added two multi-directional ball joints to his back and attached LED'S for thrusters. Time for the guns. Blaster in the center is from A TMNT toy and is removable and turns and folds behind him, I don't have the original missile so it doesn't launch. Missile Launcher was very old fodder from G.I. Joe's glued together. Other Blaster launches and was fodder??? The two side weapons (launcher/blaster) are attached by 5 neodymium magnets and are interchangeable/ removable. Everything was painted in Acrylics and sealed. I will probably do a little more work on this after seeing the pictures. Getting low on supplies so I'll just have to wait.

Anyway, sorry for the long description. Thanks for looking and comments are always welcome!