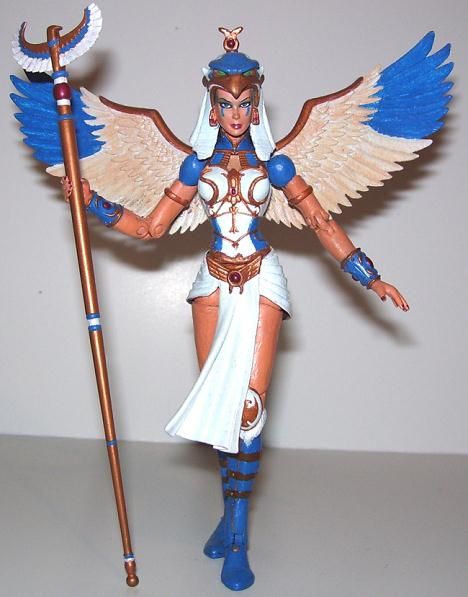 Booyah! Batman's back, brother! Time for another MOTU Hybrid custom figure! Today's work is one of the most challenging Masters I've made (at least, until I started work on Clawful . . . he's been a B!+(#, let me tell you!). As stated in Teela's description, every good man has a good woman pushing him along. Teela is He-Man's main squeeze, but the ultimate source of his power and purpose is the guardian of Castle Grayskull, the wise, mysterious, shape-changing Sorceress!

MOTU Hybrid is my attempt to unify the best of all three MOTU eras. The ideas (i.e. color schemes and concepts) of the original cartoon, the sculpts of the 2002 toys, and the articulation of modern figures, at a far more reasonable cost. As with Evil-Lyn before her, the Sorceress was a resin statue rather than a straight action figure. Also like Evil-Lyn, I painted the Sorceress in a more Filmation-like color scheme. It's not exactly the same (for reasons I'll explain in a moment), but it's significantly closer to a "generation 1" appearance than the 2002 version.

As with the last statue, certain components had to be discarded to make way for proper articulation. The Sorceress' legs and arms were replaced with X-23 limbs, and all the necessary costume pieces were transferred to the new appendages. Her skirt, once a solid chunk or rubber resin, was meticulously hollowed out with a Dremel until it was about a 16th of an inch thick, making it fully flexible, allowing for complete poseability. Yes, that's the statue's original skirt, not a replacement. Joints were added in all the necessary places, so that this once immobile figurine now has knees, ball hips, ankles, ball shoulders, double-elbows, and rotation at the biceps, thighs, calves, wrists, waist, and neck.

Two versions of this statue were released. One in 2002 colors, and one pre-painted in an '80s motif. I bought the 2002 version (MUCH cheaper), but I wanted her paint to be as close to the original cartoon (and thus, the alt. color statue) as possible. Unfortunately, I was never terribly fond of the original's orange wings. However, the Sorceress statue also came with a neat accessory: a secondary figure of her as Zoar, her bird form. Zoar was painted in a pattern that actually closely resembled the '80s character's human costume, sans orange wings, and with a few other minor color changes (mostly the color patterns on the head). I decided to base my sorceress off the bird figurine rather than directly translating the Filmation incarnation. So, in case anyone was wondering, that's why she has tan, dry-brushed wings with blue wing-tips instead of the traditional orange.

As stated, the Sorceress came with her Zoar alternate form, sitting on a rock. Out of the box, the hawk was permanently attached to the stone since it couldn't stand on its own. I removed the bird, hollowed it out, and weighted down the back with fishing sinkers so it was properly balanced and could free-stand on and level surface without being glued down. Well . . . presuming it's an edge, since his tail will get in the way.

The Sorceress' final accessory, her magic staff, was a little on the plain side, so I spruced it up with some blue, some metallic red, and mother-of-pearl paint for the wings. A few splashes of color make all the difference.

You know how, in the Figure Realm submission form, under Recipe/Description, it says "At minimum, a brief recipe of your custom is required?" That always makes me laugh . . . .

By the power of Grayskull!