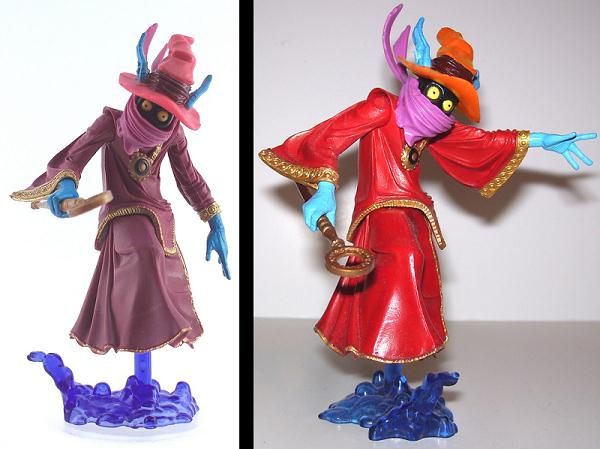 Just a simple repaint today, folks. It's said that a figure's paint can make or break the toy. I good sculpt can be ruined by mediocre paint, and a poor sculpt can be made decent with the proper painted highlights and shadows. Such is the case with today's custom, the official magician (or jester, depending on the day) of the Noble House of Eternia, the crimson comic relief of the royal court, Orko!

MOTU Hybrid is my attempt to unify the best of all three MOTU eras. The ideas (i.e. color schemes and concepts) of the original cartoon, the sculpts of the 2002 toys, and the articulation of modern figures, at a far more reasonable cost. But sometimes, making the modifications necessary to accommodate new joints requires certain sacrifices, and in a few cases, they are sacrifices I'm simply unwilling to make. Such is the case with Orko. Putting aside the fact that the character has no legs to speak of, his arms are rather heavily sculpted due to his flowing robes, to the point that adding elbow and bicep joints would ruin the overall aesthetic of the figure. It CAN be done with excellent results (see darththomas81's Orko for an excellent example), but it was a risk I couldn't take, and as I said from the beginning, the Four Horsemen sculpt comes first, always.

To that end, I decided to simply clean Orko up a bit by coating him in his proper colors. The original figure was molded in unpainted magenta plastic with some flat gold highlights. I painted him from head to toe . . . er, neck to hem in flat red to give him a more natural, satin finish. I repainted his gold trim to give it extra shine, and I painted his hat the proper orange. His hands and ears received a light blue wash to give them a more mottled, varied, skin-like color scheme, and his wand now has a proper brown, wooden handle.

No big changes, but I think it's a vast improvement on the original release. Of course, it doesn't fix the more glaring issue, namely Orko's massive size. In both cartoons, Orko is about two feet, three at most from the tip of his hat to the hem of his robe. As you can see, this Orko is nearly as tall as Teela herself. Perhaps I can come up with some creative solution for some potential future release . . . .

By the power of Grayskull!