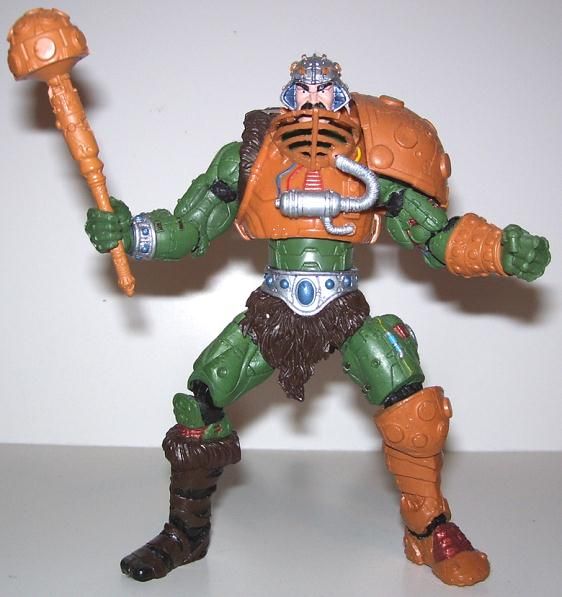 Time for another MOTU Hybrid figure! I've only got one more hero left (completed and photographed . . . I've got others finished, and even more on the work table, but for now, this is it for the good guys), so I figured I'd get him out of the way. If you've been paying close attention to my work thus far, specifically Teela, then you already know who my next entry is, so without further ado, please welcome the mustachioed master mechanic, magnificent military mind, and manly muscled mentor, Man-At-Arms!

MOTU Hybrid is my attempt to unify the best of all three MOTU eras. The ideas (i.e. color schemes and concepts) of the original cartoon, the sculpts of the 2002 toys, and the articulation of modern figures, at a far more reasonable cost. Unlike Orko, Battle-Cat, and the ladies, Man-At-Arms was pretty straightforward. Just like He-Man and Skeletor, I took an existing 2002 figure, cut it in strategic locations, hollowed out the limbs, and inserted the necessary hinge and rotate joints. Alongside his existing ball shoulders and hips, and his rotating wrists and neck and waist, Man-At-Arms now has hinge knees and elbows and ankles, and he has rotating thighs and biceps and shins. He even retains his push-button club-swinging action feature!

The paint work was a little more detail-oriented this time around. Unlike the '80s M-at-A, the new Four Horsemen sculpt was EXTREMELY high-tech, with panels and straps and gauges and wires covering his entire body. I had half a mind to paint every panel a slightly different shade of green, and to give the whole body a black wash to make the seams stand out. Ultimately, my sense of "less is more" won out (TRANSLATION: I'm lazy), and I settled for painting only the more prominent details. Silver highlights appear in certain locations. Duncan's ridged "under-armor" is painted copper, while his bodysuit exposed at the joints is flat black. His gauges and vials are painted pale blue with a faint white dry-brushing to make "glow" effects, and his wires are painted with every color of the rainbow. I also carved out the grooves in his face mask to make it into an actual armor grate.

His only accessory is a big-@$$ beatin' stick. Really, what more does he need?

I may go back and do a black wash on his armor eventually, although in person, the lack of paint highlights on his armor isn't nearly so noticeable. The sculpt stands out just fine on its own. Still . . . if I get around to it, I'll post updated pictures then. For now, he's a worthy addition to my collection as he stands, no improvements needed.

By the power of Grayskull!