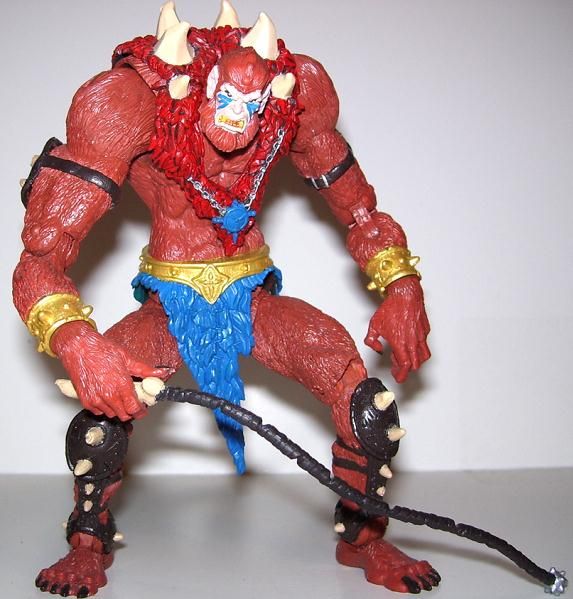 Good morning! Or night, depending on your perspective and time zone! Here to share yet another Master of the Universe figure with my fans on the Realm. Today's contribution is one of the most prominent villains from the old Filmation cartoon, easily Skeletor's most important stooge. Let's give a big hand for the mean and massive Beast Man!

MOTU Hybrid is my attempt to unify the best of all three MOTU eras. The ideas (i.e. color schemes and concepts) of the original cartoon, the sculpts of the 2002 toys, and the articulation of modern figures, at a far more reasonable cost. Sometimes this is a difficult process. In particular, finding adequate joint fodder to splice into the limbs can be time consuming. You need to find figures made of sturdy plastic with solid joints, but they still have to be small enough to fit into a figure's existing limbs. An arm or leg is only so wide, so the donating figure must have narrow limbs without sacrificing durability. Finding the perfect donor toy can be frustrating.

Not so with Beast Man. The moment I began the project, I knew there was only one choice. Marvel Legends' Sasquatch was the same size and color and had the same furry texture as Skeletor's toady. Joint swapping wasn't even necessary. I was able to splice in Sasquatch's entire limbs. I cut both figure's ball shoulders midway, and removed Beast Man's entire lower torso beneath the loincloth. I cut off Sasquatch's arms just below the elbows and his legs below the knees. I glued and puttied Sasquatch's pelvis to Beast Man's waist, reattached his shoulders, and added Beast Man's wrists and shins to the new limbs' stumps. the only individual joints I had to add were the ankles. Now Beast Man has double knees and elbows, ball shoulders and hips, hinge ankles, and rotating thighs, biceps, wrists, neck, and waist. While he retains his ground-pound/Donkey-Kong-barrel-throw action feature, it doesn't work all that great as his new arms are a bit heavier than his old limbs.

I painted Beast Man's minimal garments in Filmation colors. His once brown mane collar is now red, his green bracelets and belt are now gold, and his medallion and loincloth (and face paint) are now blue. I chose not to make his various armor pads red as well, since my brother said the brown leather was more natural. Finally, all the spikes were painted a bone off-white, including the handle of his whip.

Few of the Four Horsemen's redesigns were as simple as Beast Man. His costume is nearly identical to the original. All they really changed was his size and general proportions. Very basic, but it made all the difference. Once a humanoid, furry, bumbling oaf, Beast Man became a massive, angry, deadly ape monster. And with some simple modifications, he can now live up to the awesome potential of his redesign. A classic example of less-is-more put to brilliantly effective use!

By the power of Grayskull!