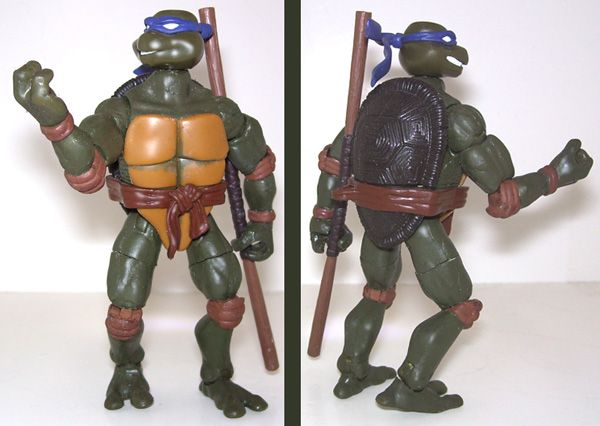 So hey, it's only been 20 FREAKIN' MONTHS since I posted the first two Teenage Mutant Ninja Turtles custom figures, I figured it was about time to get around to the rest of the main team. We got Leonardo and Michelangelo, now on to Donatello.

For those who don't remember (or can't be bothered to check the previous posts), the process for creating these figures is fairly simple:

Phase 1: Cut up TMNT figures.
Phase 2: ???
Phase 3: Profit!

No, seriously, it's just a bit of part swapping and a little joint splicing. Each turtle uses a '03 cartoon turtle and a '07 CGI movie turtle. '03 provides the hands, feet, front shell, and one of the swappable heads, '07 provides the body, limbs, back shell, weapons, belts, and the secondary head. Joints are added so the figure has rotate points in the neck, biceps, wrists, and thighs; hinges in the elbows, knees, and ankles; and ball joints in the shoulders and hips. LocTite epoxy putty to build up the muscles, and a full paint job, and this turtle is go!

Turtle Power!