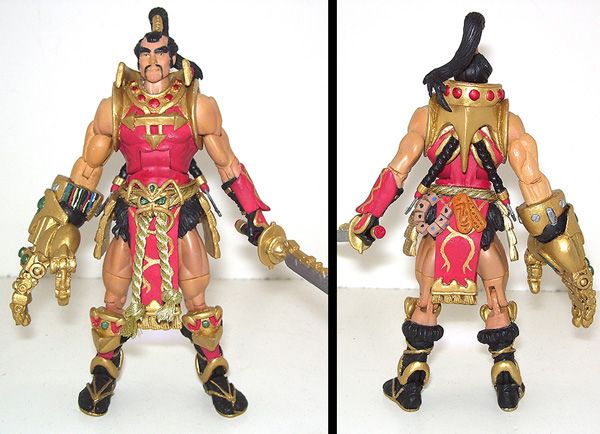 Been a few weeks since I posted my last MOTU Hybrid custom figure (Trap-Jaw . . . if you haven't seen it, please take a look), so I thought it was about time to get the next one up. Today's piece is something new for the line in two regards. One, he's not made using a MOTU figure or statue as a base. This isn't a first for the line in and of itself (Princess Adora was built from a Supergirl), but it's the first time when a figure of the character was available on the market, and I instead chose to build my own rather than use the official toy. Two, it's the first time I've made a character that didn't feature prominently in the original Filmation series. When I first set out on this project, I insisted I was only going to make major, recurring characters. However, this particular character is just so visually interesting and complex that I HAD to make him (not to mention I just coincidentally had all the important parts just lying around, so I figured, why not?). So here he is, the Skeletor's sinister cyborg samurai, the Evil Warriors' right-hand man (get it?), Jitsu!

MOTU Hybrid is my attempt to unify the best of all three MOTU eras. The ideas (i.e. color schemes and concepts) of the original cartoon, the sculpts of the 2002 toys, and the articulation of modern figures, at a far more reasonable cost. Today's key word? COST. Whenever possible, I prefer to use the Four Horsemen's excellent sculpts as a base, but when those sculpts cost upwards of $60 for a loose, INCOMPLETE mini-statue, it's time to find an alternative. Luckily, I had just the alternative I needed in my workshop.

Look at picture #2 below. That's the official mini-statue. Note the hand. Looks a LOT like an X-Men Sentinel hand, yes? Some one tell me WHY almost no one ever thought to do this before? I found about a dozen custom Jitsu figures through Figure Realm and Google Image Search, and only ONE used the Sentinel hand as a base. Me, I thought it was OBVIOUS.

Anyway, I had a Sentinel BAF right arm lying around, so I had the perfect hand. I had some leftover uggs and fuzzy britches from another MOTU figure I had cut apart. I had some gold Christmas garland rope that was EXACTLY the right size for the belt. And I had a DCUC Samurai figure. The exact articulation I wanted, bare arms and legs like Jitsu, and his head was almost identical, right down to the mustache and hairstyle. All I had to do was sculpt the armor, add some accent pieces, and paint it all up.

Basically, aside from his hand, his boots, and his skirt, EVERYTHING on this figure was sculpted by hand. The gauntlet, the shin-plates, the sandals, the belt buckle, the thigh pads, the collar, the ponytail, the right arm musculature (bigger because it's carrying more weight), the Asian mystic charms hanging from his belt, even some of the accents on his prosthetic, there is a ton of LocTite on this figure, and it's almost ALL fine detail work. Carving the line work on the thigh armor plates was a particular pain in the @$$, but the results are SO worth it!

Clearly, the figure isn't completely identical to the original. I did make some changes as deliberate design choices. Most notable is the fact that the line work on the skirt and gauntlet aren't raised sculpt, but merely painted on. I did this because sculpting lines of LocTite and gluing them to the flexible sash (made from a sheet of red craft foam) would have made the sash rigid and fragile, restricting the figure's poseability. And once the helix shape was painted on the skirt, it seemed more uniform to just paint it on the wrist plates as well. Plus, raised ridges of epoxy would have restricted the hand rotation where the wrist armor overlaps. No, it's not laziness, thank you very much! Just look at that hair. I could have made a simple, straight ponytail like the original statue, but no! I made a complex, swirling action-posed lock swinging dramatically over his shoulder. That takes a lot of work to make it look good, guys!

Jitsu's weapons (weapons? He's got a GIANT METAL JUDO-CHOP HAND, what weapons does he NEED?) were just as conveniently lying around my fodder bin.
- 2 kamas, from an old TMNT figure. These weapons hang from clips on Jitsu's back.
- 1 large techno-katana, from a 2007 TMNT Shredder. Seriously, I was dumbstruck by this one. The Jitsu statue had this weird mechanical katana, where the habaki extended up the back of the blade in a strange circuitry pattern. I thought I was going to have to sculpt that on a regular katana, so I started digging in my weapon bin, and out came . . . a katana with a habaki that extended up the back of the blade in a strange circuitry pattern. I forgot I even HAD that sword, and I never thought I'd find such a perfect home for it!

Jitsu is an OBSCURE character. He had ONE appearance in the original cartoon, where he spoke ONE line and performed ONE chop, and was never seen again. He had NO presence in the 2002 cartoon, nor any comics or additional MOTU media. Yet somehow, the Four Horsemen applied their artistic genius to this bittiest of the bit players, and made him into one of the coolest figures of the franchise. It's a shame I'll likely never own the actual Jitsu mini-statue, but I couldn't ask for a better runner-up than this custom. He came together flawlessly, and he's a welcome addition to my MOTU Hybrid shelf.

By the power of Grayskull!