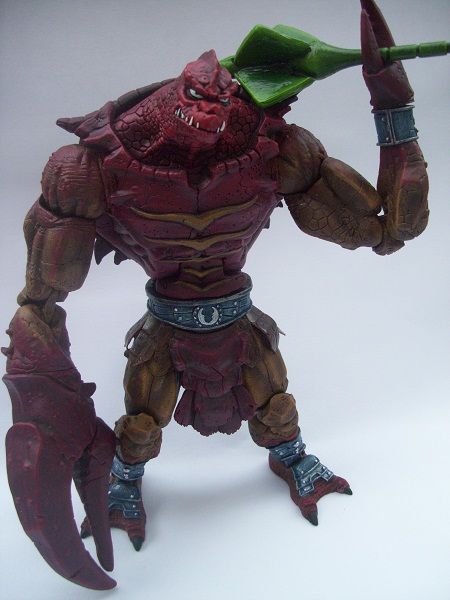 So this guy has been a looon time in the works and this contest finally gave me the motivation to get him finished. A lot of sanding and sculpting went into this one and a whole lot of sculpting too. Most of the articulation comes from a Thorbuster Ironman and has been sculpted over and to blend in. I'll give a full breakdown of how each joint was achieved below. He's gone from 0 to 31 P.O.A in about 6 months, yeah, I started him that long ago and that's probably being generous.

So I figure everyone has different views on what a P.O.A is (personally I see it as any direction a part can move) so i'll list the 31 and see if y'all agree
1.Head - Up and down - Thorbuster IM neck dremmeled off then sculpted over to blend.

2.Head - spins round

3 and 4. Shoulders - spin round - ML Maestro (idea stolen from Argenta)Sanded down, sculpt to blend

5 and 6. Shoulders -up and down

7 and 8. Upper arms - swivel round - sanded down the Maestro arms to a cuff that fit over the peg and dremelled out the clawful arms so they slot inside.

9,10,11 and 12. Double elbow articulation from Thorbuster IM, hollowed out staction arms and slid the IM parts in, sculpt to blend.

13.Left claw - spins round - hollowed out staction arms and slid in a sanded down Anakin Skywalker arm.

14.Right claw - hollowed out again then a waist joint from a Qui Gon Jinn was grafted in.

15.Right claws pincer - ML Falcon arm joint, sculpt to blend

16.Ab crunch - Thorbuster IM again completely sculpted over

17.Waist - Thorbuster IM.

18 and 19.Hips - up and down - Thorbuster IM, sculpted over crotch piece, even added a tail....not that we'll see it.

20 and 21.Hips -rotate

22 and 23.Upper legs - rotate - Thorbuster IM, sanded down and hollowed out the staction.

24,25,26 and 27.Double knee joints - Thorbuster IM, same treatment as before and sculpt to blend

28 and 29.Ankle - forwards and backwards - Thorbuster IM same treatment, the armour bits are sculpted

30 and 31.Ankle - rockers - Thorbuster IM, same again.

His skirt was made from some fake snake skin wallet and his mace was cobbled together from a couple of golf tees, a Kobra Kahn projectile and some sculpt. All Painted and sealed with games workshop products. So glad to get this guy done, it really has been a very, very, very long time. Thanks for looking hope you like.