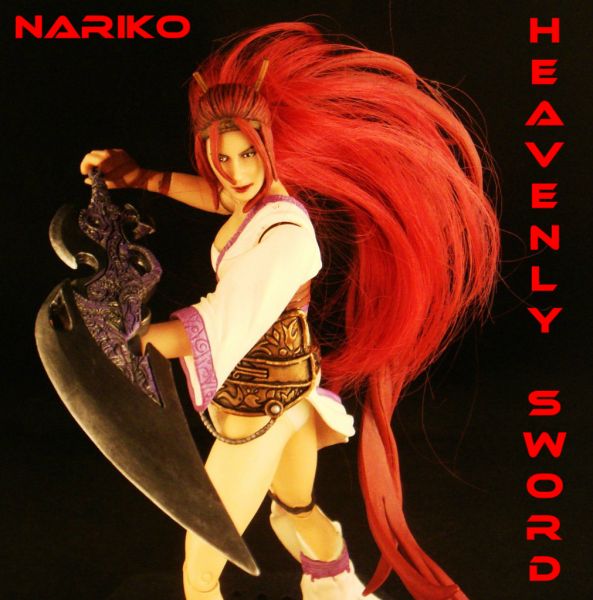 Took a Nariko figure which suffers from poor articulation for my taste. I dremel chopped her in half and removed her hair and partial clothes and also cut the arms and took off the shoulder joints. Repositioned the joints to pose better and in the cloth on the left arm. Chopped a DC UNIVERSE wonder woman figure in half and dremeled her flat. Then attached the bottom waist down DC universe figure to the top half of the Nariko. Sculpted a new midsection over it so it woould never break. It now can swivel at the waist and her legs now have hip articulation and knee articulation. Chopped the calf down and added the lower leg portion of Nariko, but dremeled out both sides so her calves move 360 right to left so they can position for poses. Created a tab so they stay. Reattached her clothes on. Added real matching hair which flows in addition to the original sculpt hair so the main hair can move 360 degrees around but now also the free flowing hair is articulated as you can position that anyway you like. Can give a count on hair articulation????? Dont know how.
NARIKO can now adopt all the battle poses I envisioned for her. She is one of my favorite characters I have ever seen. She is a popular character in a PS3 game title. If you haven't played the game you are missing out. Her sword splits into two swords then reattaches back into one. I also took some shots with her fully metal larger HEAVENLY SWORD. Added one pic of four to show screenshots of her for reference.
Hope you all like.


Source Wikipedia below:
Setting

Nariko's warrior clan believes in a prophecy of a warrior sent from the heavens with a godly blade (the eponymous Heavenly Sword), to save them from the evil and demonic Raven Lord. When the warrior was finished with his task he left the blade behind on earth. Many men were immediately drunken with the desire to wield its power and murdered over its ownership. It was then that Nariko's clan ended the violence and took on the dangerous undertaking of protecting the sword from such corruption. The clan believed that one day, in a year of the fire-horse (from chinese horoscope), a predestined male heir would be born and reclaim the sword as its rightful owner. Once this happened, peace and tranquility would return to the land and none would fight over the sword anymore. Their hopes were dashed however when the prophecy was nullified as on the day of the flaming mare, Shen's wife produced not a male child but rather a female child (Nariko) while dying in childbirth. Shen was first tempted to murder Nariko but guilt swayed him, and instead he brought the girl up and trained her to be a warrior.
[edit] Story

The game follows the story of Nariko (Anna Torv), the fierce red-haired warrior whose clan has long protected the "Heavenly Sword", a god's blade of immense power that drains its wielder of their life force. A power hungry ruler known as the evil King Bohan (Andy Serkis) seeks to obtain the sword to gain its devastating power. Upon beginning the game, the player is immediately thrust into the final battle with Bohan's army. After slaying many of Bohan's soldiers, Nariko can no longer resist the sword's deadly curse. She falls to the ground as the characters of the sword engrave themselves deeply into her skin. After dying, she wakes up and finds herself in an empty clearing. Nariko laments the sword's decision to take her at such a critical moment and begins to recall the last five days before her final battle.

Five days previously, Nariko's clan is assaulted by the first strike of King Bohan's forces. Before she joins the fight, Shen (Ewan Stewart) thrusts the sword into the ground next to her demanding that she take care of it. Nariko fights alongside her father and her clansmen as their defenses are weakened and stretched by scores of Bohan's warriors scaling the city walls accompanied by catapults. As the warriors and Shen escape from Bohan's Army, Nariko protects them until spotting a catapult moving toward the fort. As Shen had earlier instructed her, she flees, as the fortress is apparently destroyed behind her. While fleeing, she passes a large black bird with a golden head, which gives the impression that it is watching her. When Bohan's army captures her father and corners her in a retreat from the clan's city, Nariko has no choice but to wield the sword to defend herself in order to escape. She takes a flying leap off a cliff edge when Bohan's archers begin to fire at her.

Kai (Lydia Baksh) finds Nariko after disobeying Shen's orders to hide and informs her of the temple where her father and clansmen are being held captive. Nariko infiltrates the temple and is ambushed by Bohan's general, Flying Fox (Steven Berkoff). She defeats Flying Fox for the time being and continues on to rescue her father. Meanwhile King Bohan plots to set up a trap for Nariko with his mistress Whiptail (Race Davies). Nariko sees her father dangling from a chain and falls for the bait. Whiptail's guards ambush her but are unsuccessful in their attempt to kill her. Whiptail decides to take Nariko on herself and tells Nariko the truth behind her father's original feelings about her birth - Shen wanted to kill Nariko shortly after her birth, but was unable to bring himself to do so. Nariko tells her father to leave her and fights with Whiptail. After Nariko impales Whiptail with the sword, King Bohan turns up and brutally snaps Whiptail's neck in her dying moments. Nariko passes out and is captured by Bohan.

Nariko awakens and realizes she has lost possession of the sword. King Bohan gleefully informs her that it is safely stored in his armory. Meanwhile, Kai makes her way to Nariko's holding cell. Kai is able to find where Nariko is imprisoned and begs that she comes home with her "like a good girl." Nariko explains to Kai that she needs to reacquire the HeavenlySword to kill King Bohan. She asks Kai to retrieve the sword and Kai accepts the task. Kai eventually succeeds in finding the Heavenly Sword, only to also discover the corpse of her mother displayed as a gruesome trophy. In a flashback, it is revealed that, some years ago, Kai's mother was murdered in front of her eyes by Flying Fox. In the present day, Flying Fox suddenly appears and attacks Kai, who barely manages to escape with the sword. Bohan decides to throw a spectacle for his soldiers and forces Nariko to fight her own clansmen and Roach's monstrous pets, Orangumen, in a pit. During a battle with these creatures, Kai comes flying from the rafters and throws Nariko the sword. When Nariko defeats all the Orangumen, Bohan orders his own son Roach (Richard Ridings) to murder Nariko. After defeating Roach, both Nariko and Kai flee from the pit. Bohan then commands Flying Fox to kill Kai. As the two try to escape the temple, Flying Fox cuts Kai off from Nariko's safety and they are separated. Nariko desperately tails Flying Fox in order to save Kai from being murdered. When she finally catches up with Flying Fox, he hangs Kai from a rope, dropping her from a great height. Believing Kai to be dead, Nariko screams in grief and rage, before beginning battle with Flying Fox. As Nariko and Flying Fox battle with each other, Kai suddenly stirs and reaches for her crossbow, shooting an arrow into Flying Fox. Her shot pierces his forehead and he falls to the ground, dead. Nariko releases the injured Kai from the noose and returns her to the care of the clan.

King Bohan rallies his men to launch a final attack to regain the Heavenly Sword. Nariko fights alongside her father and clansmen once more despite being outnumbered a thousand to one. Nariko kills countless numbers of Bohan's troops with ease and destroys his catapults. Despite her efforts, the game is brought back to the beginning of the story where she fell to the ground dying. But this time, Nariko reverses her death by making a pact with the sword to protect it from becoming a useless and dusty relic. Nariko descends back onto the battlefield as a glowing white goddess radiant with light. As Bohan looks out over his troops as they are slaughtered he turns to the huge, golden-helmeted raven that is seen repeatedly throughout the game and begs that it bestow him the power to destroy Nariko, referring to it as "my Lord". Bohan gets his wish and the raven spirit enters his body as a smokey black cloud, making Bohan the new, nigh-invincible Raven Lord. An epic battle ensues similar to the one foretold in the prophecy of the sword. After Nariko manages to defeat Bohan, the raven leaves his body, and, despite Bohan begging for mercy, pecks his eyes out and flies away into the sunlight, leaving Bohan screaming on the ground in blinded agony. As Nariko raises the sword to strike the final blow, Bohan's son Roach comes to his father's side and begs Nariko to let him take the pathetic, defeated King Bohan home, which Nariko allows. Though successful in protecting the sword from coming into the hands of ultimate evil, Nariko still must give her life for wielding it, for that is the price for using the almighty sword, and the story comes to its end.

Nariko reflects to her father that she believes they have fought in vain for the prophecy, that she is not a warrior sent from heaven, but rather she chose to be the one who was going to save her people from evil. She took the sword, paid the price and ultimately defeated Bohan's army, but nevertheless she was still a normal woman. She also implies that the sword is not from heaven, as they believed it was, but somewhere else. Nariko heals Kai and gives her the sword for safekeeping, before passing away. At the funeral, Nariko's body is placed into a boat filled with blossoms, and Kai and Shen cast her out to sea.