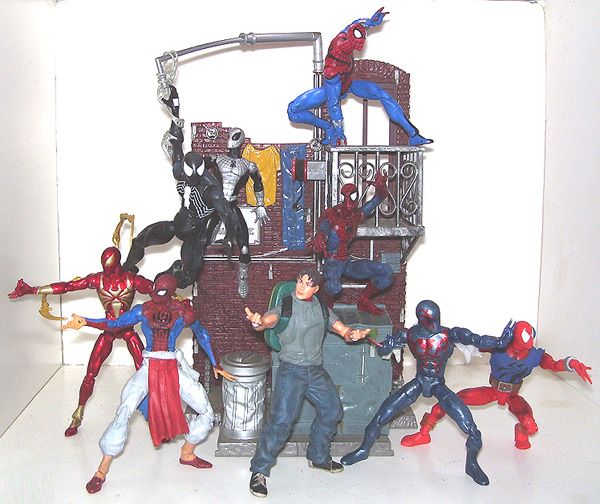 | | |
| --- | --- |
| Custom #: | 38074 |
| Name: | Attack of the Spider-Men |
| Custom Type: | Action Figure |
| Toy Series: | Spider-Man |
| Creator: | Batman1016 |
| Date Added: | April 3, 2012 |
| Base Figure: | Various |
| Height: | 6.00 inches |
Hello there Realm! Fun little entry for today, and with it, a bit of history. I've only been posting my work here on Figure Realm for about two years, but I've been customizing figures since I was in my mid teens (about a decade and a half now . . . yes, I'm an OLD MAN). As a result, I have a LOT of old customs lying around, many SORELY in need of repair/updating. Eventually, I intend to post them all, but there's so many, it would take AGES to do them one at a time, and many of them are just minor mods. So it occurred to me, why not post in groups? So, here's my first custom figure theme team, the spectacular Spider-Men!

What we have here are four full customs, three minor mods, two straight-up factory figures, and a partridge in a . . . I mean, and a playset for display purposes. Only classic ToyBiz Spider-Man and Marvel Select Black Spider-Man are original, unchanged. The other seven figures have been altered to varying degrees, from the addition of a single accessory, to sculpting and a complete paint job.

We'll start with the latter, the full customs. First on the list, Spider-Armor Spider-Man! This figure was made using parts from at least three others. I couldn't use a basic, smooth "painted-on webbing" figure, nor could I use a movie-style "raised webs" toy, I needed figures with carved texture, "inset webs" for that scaled, armor-plated look. The base body is clearly derived from the old Spider-Man Classics body with its limited detail and articulation, but the left hand and feet come from a "wall-crawler" figure with magnets in the palm and soles, allowing the figure to stick to metal surfaces. A simple but effective conversion to Spidey's armor suit.

Next up is Spider-Man India. For those not familiar, some years back, Marvel released a miniseries in southeast Asia, centering around Pavitr Prabhakar and his battle against demon-possessed villain analogs of Green Goblin, Doc Ock, and Venom. A cool idea to spread comics to a wider demographic, certainly a better marketing plan than, say, destroying the wall-crawler's marriage and ruining four decades of character growth (Dear Joe Quesada, please retcon yourself, no love, Jay, kthnxbye!), but I digress. SMI was a basic Spider-Man (came in a two-pack with Absorbing Man or Abomination, as I recall), upon which I sculpted loose pants and the new India spider logo using LocTite epoxy putty. The belt, sash, and loincloths are rubber segments of various capes and LOTR figure costumes.

Spider-Man 2099, like Spider-Armor, uses a basic Spider-Man Classics body, with feet from the Hasbro ML Ben Reilly Spider-Man figure. I cut plastic wrist blades out of some fodder plastic, and his "cape" is made from medical gauze, separate pieces attached to his back and arms. A full metallic paint job, with special attention to give him a slightly rough texture reminiscent of the version seen in the videogame "Spider-Man: Edge of Time," and you've got an excellent Spider-Man of the future!

The last full custom is Ben Reilly Spider-Man. Right off the bat, I'd like to say for the record, I LOVED this costume. It was just such a slick, stylish update to the classic threads. However, neither ToyBiz nor Hasbro has ever managed to do this character justice. ToyBiz produced a version of the character for the Spider-Man Classics line *Web Attack Spider-Man), but forgot to include his gauntlets, and gave him LOUSY leg articulation. Hasbro made their own version, but made it using the Bullseye body (a perfectly fine buck, but not for a tall, lanky, flexible character like Spider-Man) and poorly proportioned hands. I wanted a proper, scrawny, super-poseable Spider-Ben. I took the upper body of the Web Attack figure, and the lower body of Parachute Spider-Man (probably THE most poseable SM figure available), and combined them into a single, perfect whole. Sculpted some web shooter gauntlets, and viola! A Spider-Man worthy of Ben Reilly!

The remaining three figures are minor mods. Iron Spider was the original release of the figure, with yellow paint. I simply repainted him gold to match the metallic red. Scarlet Spider is the original SMC release, which was perfect save for the lack of a belt. Easily remedied with a TMNT belt (Cowboy Raphael as I remember).

The final mod, Secret Identity Spider-Man, was rather interesting. People familiar with the toy know that, originally, he came with a rubber hoodie and rubber jeans to accommodate his costume change while allowing full poseability. People familiar with rubber action figure clothes ALSO know that such garments are prone to dissolve into goo while in storage. I was NOT familiar with this concept and, after pulling him out of the box where he was stored for several years, I discovered to my dismay that his hoodie had melted into a greasy smear. Fortunately his pants were intact, so it was a simple matter to sculpt an exact duplicate of his shirt using LocTite. Rather than a flexible shirt that pulls over his torso, he now has a two-piece "breastplate" shirt: the back snaps on, then the front hooks over top, the hood and backpack securing the two pieces together. Aside from a seam running up the sides, you'd never know the difference, and he retains full poseability!

Excelsior!