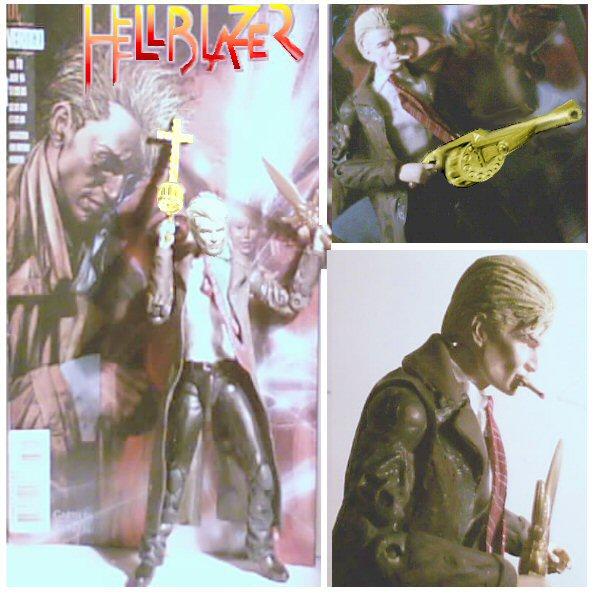 | | |
| --- | --- |
| Custom #: | 3835 |
| Name: | John Constantine - HellBlazer |
| Custom Type: | Action Figure |
| Toy Series: | DC Universe |
| Creator: | deadeye |
| Date Added: | August 30, 2007 |
| Base Figure: | Spike, Xander, GhostRider caretaker |
| Height: | 6.20 inches |
Forget Doctor Strange or Doctor Fate or any other pyjama wearing comicbook sorceror, when push comes to shove - theres only one true contender for the Throne.
My favourite magician and horror comicbook anti-hero - JOHN CONSTANTINE.
A British, chain smoking, sarcastically wise-cracking,Occult investigator wearing the shabby trenchcoat of a classic private eye detective.

Although usually a compassionate humanist and often heroic, Constantine pursues a life of dark magic and danger.
Hes a Magic junkie - getting an adrenaline kick from the strange and mysterious of the Occult. The more dangerous the better.
This has cost him the lives of many of his close friends, a lover and allies who now haunt him as ghosts.

Early attempts at using magic and his usual flippant arrogant attitude towards it - often backfired on John, leaving him guilt-stricken when he couldnt save a little girl called Astra from a Demon that he hgad summoned to destroy another. (See Hell Blazer #11). Years later he makes it his mission to release her soul and all the other children's souls unfairly trapped in Hell.

John's true Legend begins when he's dying of Terminal Lung cancer from his chainsmoking. (Hell Blazer graphic Novel Dangerous Habits)
When saying goodbye to a dying Irish friend - Brendan Finn - he saves his soul from being collected by Satan. For Brendan has sold it to create and own the best Alcohol in the world.
Constantine tricks Satan into drinking Holy Water magically disguised as Guiness.
John uses the opportunity to smash him in the face with a wine bottle "STICH THAT" and dissolves Satan back to hell in a Well spring of HolyWater blessed by Saint Patrick.
Satan vows to make Constantine's Soul suffer worse than anyone ever sent to hell and The Devil hasnt got long to wait.
John hatches a plan to save himself from eternal torment, secretly selling his soul to Satan's equally powerful brothers.
When they discover Constantine's trick, they would be forced to go to all-out war over his soul. Weakened by a recent civil war in Hell, the three wouldn't dare wage war as the only winner of a war in Hell would be God and his angels. As a result, they were forced to cure John of his cancer and keep the crafty Mage alive.

Unlike most comic book magicians, Constantine rarely uses magical spells, unless he really has to, especially in combat. Constantine faces most of his challenges relying primarily on his cunning, his vast knowledge of the occult, manipulation of opponents and allies, and an extensive list of contacts.

Constantine's blood is demonically tainted, initially by a blood transfusion from the demon Nergal, and later by sex with a succubus. His blood has been shown to have healing properties.
It has also acted as a defence mechanism when The King of the Vampires tries to feed from him (Hellblazer #69)
Melting the Vampire King's jaw and leaving him in a weakened state for Constantine to drag into the sunlight and pee on the burning vamp's remains.

Although John generally avoids physical battles - letting others fight for him like a master chessplayer - he has been known to use magical weapon's (Hellblazer #217) or fight dirty (Hellblazer #42, #57 and the graphic novel All His Engines).

Some examples of Constantine's magical powers include
Divination, Demon summoning, Black magic Cursing, Spirit Ward sigil creation, Golemancy (Raising a golem. (Hellblazer #167)).
Necromancy - Raised a group of murder victims to attack their killer(Hellblazer #230)
Illusion - Using illusion to make people think he's someone else. Or using Illusion to scare susceptible opponents into insanity (graphic novel collection Hard Time)
But constantines main ability is being able to travel the Synchronity Highway.
An instinctual supernatural ability to be in the right place at exactly the right time. This has led John to uncanny luck, like winning incredible amounts of money from Arcade machines and Casinos. Avoiding harm. And more times than not - to meet the right kind of ally to help prevent or stop an apocalyptic event from happening. (Jamie Delano's Hellblazer run)

Constantine has also exhibited considerable mastery in "stage magic skills" - Hypnosis, Misdirection, "mindreading", Sleight-Of-Hand and Escaplogy.
His skills pee on those of Derren Brown and David Blaine.



RECIPE

Tho I quite like the Constantine movie - I didn't like Keanu Reeves as Constantine JAMES MARSTERS - SPIKE from Buffy and Angel tv Shows would have been a lot better.
He had Constantine's attitude, accent and look - he was perfect.

So taking a deluxe edition 6" spike figure and turned him into my favorite comic mage.
I swapped out the arms and his Trenchcoat for those of a Ghostrider movie Caretaker
The arms were a bit short so I added longer forearms using a spare Xander figure's forearms (spike's arms had Black Nail Varnish) and color matched the GR Caretaker trench and arms with suitably color sculpey - filling any holes where needed and making proper Trenchcoat cuffs

* Altered his mouth with flesh colored sculpey into a pout and this was perfect so slipping a cigarette I made out of sculpey into
* Increased the height of his hair slightly and restyled and it into the classic Constantine 'do from the earlier comics (based on singer/actor Sting from the movie Quadrophenia)
* Made a shirt from handkerchief white linen that easily slipped over his body
* Glued a Tie on from a NECA Hitman figure

Constantine doesn't have a signature weapon in the comics - but does in the film "The Holy Shotgun" - I made an HS from a fodder shotgun and small cheap crucifix.
It didn't look too Holy so I decided to give it a "holy glow" in photoshop.
However I felt this wouldn't be something the comicbook constantine would use and would call his movie counterpart "a Ponce and a Tosspot" for using one.
So I made a "Spearhead of Destiny" dagger out of a fodder Spear for my Constantine to use as a ritual Dagger to fight the forces of darkness with.After doing a bit of research on "The Spear of Destiny" - the spear of Longinus that allegedly pierced Christ's side during the crucifixion - supposedly imbued with mystical powers as its coated in Christ's blood. I found out that one of the Early Christian Kings of the Holy Roman Empire that owned it was KING CONSTANTINE.

Perfect - this would be something that constantine would use as its easily concealable about his person. and is mystically powerful enough for defense as well as offense.
I gave it a nice Bronzey paintjob.