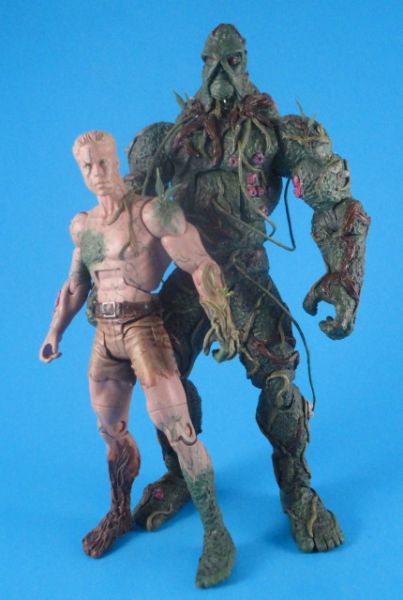 **Thanks everyone who voted. This was my first contest, and I had a lot of fun with it**

Always wanted to do a Swamp Thing, and with a big green base figure in stores (Thunderball), i figured now is as good a time as any. Swamp Thing himself is all Thunderball, completely sculpted over with a mossy texture, then covered in vines, branches, mushrooms, flowers, and those weird psychedelic tubers on his back.

I thought since this is a shape shifting contest, he'd better do some shape shifting. In the newest series he's been doing lots of that, so i used that as inspiration. He has a bark sword and shield which attach magnetically to either hand, or can attach together then to just one of his hands. He also has interchangeable lower arms, two normal ones (the ones with the magnets in them), a right arm with branch tendril fingers (that he used to very devastating effect recently), and a left hand that's delicately holding a rose between his thumb and forefinger.

He's also recently become The Parliament of Trees "Warrior King", and sprouted wings and a crown/war mask of branches, so i made those as well. The wings are from a ML Angel and can attach via ball joints. His War Mask is sculpted, and just kind of attaches tightly around his face.

I also decided that it'd be cool if he came with a sort of mid transformation Alec Holland , (in the new series, the Swamp Thing actually is Alec Holland, not just a mass of vegetation that thinks its him). So he's made from a Kamandi with a Steve Rogers head, some sculpting and a new paint job.

Hope you guys like them, i poured a lot of time and effort into them both.