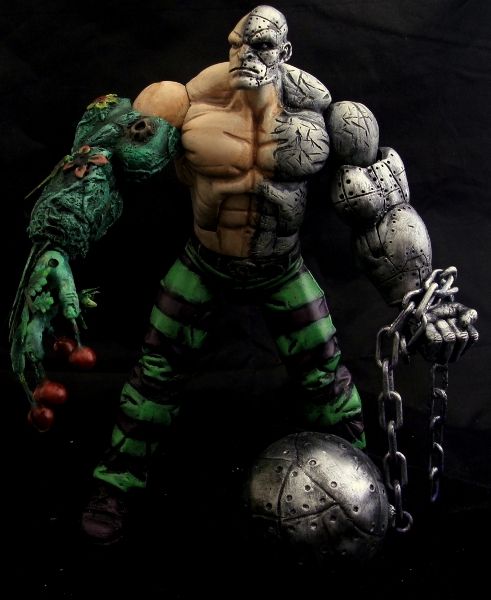 Meet the Absorbing Man, the most dangerous man on Earth! Unable to remove Thor's powers, Loki instead resorts to "powering up" a vicious mortal,convict Crusher Creel, the enemy that might just defeat Thor! Carl "Crusher" Creel! The man who has fought Thor, The Hulk, and Even a whole team of Avengers to a stand still. In fact, Creel has even won a few. Crusher is one of Marvel's oldest Villains, having first appeared in Journey Into Mystery #114, 1965. The description below is for those who would challenge Absorbing Man being a shape-shifter; although, he does have a Skrull head so that is covered there as well!
Crusher Creel can alter the molecular structure of his body, his clothes, and his wrecking ball to mimic the properties of any material he touches. This process also gives him enhanced strength, endurance, and in most cases, resistance to injury. If the object touched holds some form of energy, such as a battery or a blast furnace, Creel absorbs these properties as well. He also has limited shape-changing abilities when absorbing certain objects, such as forming hammer-like fists when touching a hammer or growing to enormous size when copying items of massive power or strength. More recently, Creel has developed the ability to control the mind of another, even over vast distances. He was shown to be able to "re-grow" his arm when it fell off (in his rocky form) by re-attaching it, then changing back to human form. Some of the substances he has absorbed are; Thor's Uru hammer Mjolnir, Odin's cosmic bolt, Hulk's (gray) strength, Captain America's shield, the Thing's skin, titanium, bronze, Dazzler's light, iron, diamond, helium, water, earth, granite, bricks, Ultron's metallic armor, the Sentry's energy, cinder-blocks and Quasar's quantum bands. If his body is broken into pieces while in a non-human state he can mentally reassemble himself.

This Figure has a ton of parts combinations and the arms, hands, and heads are all removable via neodymium magnets or joint modifications. The base was Sota Street Fighter T-Hawk. After heating and removing all the tassels, head, his arms, and jacket. I re-sculpted his chest, back, and traps. Filled the ab peg holes and re-sculpted the legs. Most of the arms were re-sculpted as well. The arms were also dremeled at the wrist and bicep and filled with epoxy to fit the neodymium magnets that make them interchangeable. The ice arm was made with a bath scrubber acrylic handle cut, shaped, and glued together. The forearm was covered in hot glue and sanded.I messed up the paint and after sanding it off realized hot glue gets cloudy after sanding so, the glass is now ice. He was going to have a shattered glass hand but that was replaced by a FF Movie Invisible Woman Leg as an Ice Scythe. It was originally supposed to be clear. The Dragon Man arm was a Pitt BAF hand and wrist with a ball joint added and attached to a FA Hulk arm that I dremeled out to fit. I also used an FA Hulk arm for the plant arm. The arm, hand, and head were sculpted. A plastic mistletoe tree leftover from Christmas was used for leaves and an old brooms bristles for the branches. I credit Actorjez's Swamp Thing custom for inspiration there. Except I used a wire dog brush to make the texture effect.Ball and chain were made from random kid toy balls with sculpt. The chain was a bird toy chain. I bought 10'. Didn't have time to finish the other balls. I may have missed some of the arms or heads in the photos. I will post them up if I notice any. Any questions on how anything else was made/ sculpted, I will answer after the contest.

Thanks for looking! Comments are always welcomed and appreciated. Happy Voting and Good Luck to everyone!

RECIPE:

Base- Sota T-Hawk

Heads and Floor Safe- Hulk Transformation series Absorbing Man Heads, some cast, all sculpted.

Arms- Zangief, Birdie, T-hawk, FA Grey Hulk, Blanka, ML Thing, Scratch Built!

Removable Leg Water Accessory- Hot Glue

Everything you see was painted with acrylic and sealed. Sculpts were done with Aves Fixit Sculpt.