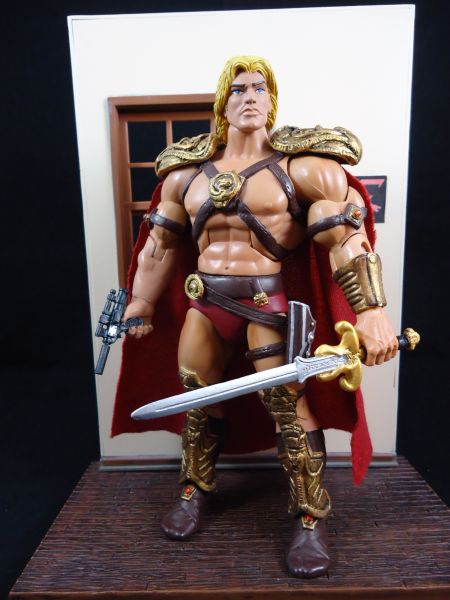 Hello guys! After the tons of requests I received, I finally found the time to properly finish my movie motuc custom He-man. Many of you might remember the one I made a while ago in the dcuc scale, well this is a completely different sculpt with all the parts being made from scratch after seeing the movie for like 5 times (trust me I know now every one of the actor's lines now) It took me about a year to finish it. Production started around the same time the Pixel Dan figure was made ,but with all the work I had, the figure got pushed back every time.

I used several figures to create him: Sculpted head from scratch (see video) Demo man lower legs (you can also use photog) Bow's crotch and left arm, He-man torso, upper arms, feet and upper legs, and Adora's holster modded so it fits on his waist. The sword holster comes from a strap of the Nick Fury figure from Hasbro…really a ton of parts to create this unique figure!
Don't crucify me for using fabric on the cape, but the effect just wasn't the same with plastic, I designed it so a modded cape from count Marzo could be used, but it really looked bad, not so screen accurate at all, and it got in the way of the sword holster


Every detail on his costume was sculpted taking references from several art prints, posters, etc. some pictures I found online when the costume was being auctioned , and some others, well I had to imagine due to the few inconsistencies I found between the screen used one and the one in the actual movie. (the gun holster for example)
Without further ado, here it is,let me hear your comments and critiques. Thanks for checking it out!