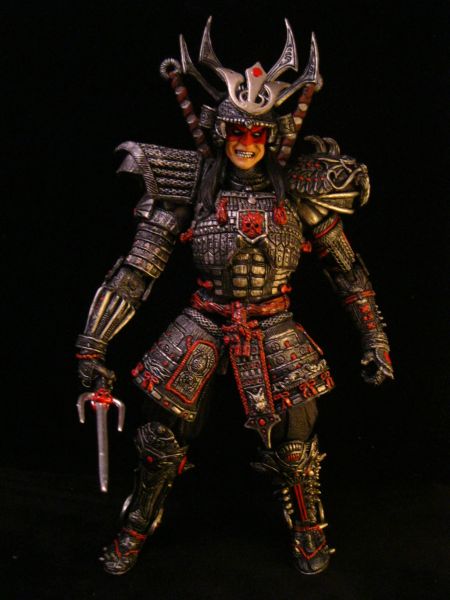 | | |
| --- | --- |
| Custom #: | 41702 |
| Name: | Silver Samurai (after Shinobitron) |
| Custom Type: | Action Figure |
| Toy Series: | Marvel Legends |
| Creator: | dbocustoms |
| Date Added: | August 12, 2012 |
| Base Figure: | ML Movie Juggernaut,spawn samurai figure |
| Height: | 7.00 inches |
hey peeps!its been a very long time since i have been able to post anything but i finally got my stupid camera to work with my stupid computer! my good buddy giusti saw shinobitrons silver sam awile back and wanted one just like it...and so did i! his recipe was beyond brilliant imo and all creative credit on this figure goes to him,he is the man,i never would have thought to use the base figures that he did and he made a master piece,i did my best to ,well,basically copy it(im told he knew i was doing it so i dont feel to bad lol) this guy took me a very long time to make,i used the upper half of the movie juggs and half his biceps and conected it to the lower half of a spawn samurai ninja dude. i peeled all the armor off the ninja guy and put in on juggs so he now has the ab crunch feature.the shoulder armor is on hinges so he can move his arms feely, i took the leg armor from a different samurai guy that brian giusti sent me(thanks brother!)and parts of a second helmut to make the alterate dragon helmut,both attach magetically,i buried a magnet in silvies nugget so the helmuts would stay put. the base is mostly hand sculpted with the exception of the top,which is a modified base from electra,and i used liquid plastic to make the "broken glass",some of it,along with a couple pieces of "broken wood" are loose so homey giusti can put the wreckage wherever he wants,the back part of the base has two peg type things that can hold his helmuts or weapons. i made a ton of energy things(most of which are not pictured which is a bummer cause i sculpted and casted alot of them!) that can attach to his ax,swords or sai so he can use his mutant power against that wolverine jerk :)some were casts of some enegry accessories from a flash figure, im also told that loosecollecters new astonishing wolverine will be displayed with this,which is half awesome and half sucky...its an honor to have my work displayed next to his stuff,on the other hand once brian puts the two figures side by side he will realize my inferiority and ill lose a collector of my work lol,i had a ton more pics i really wanted to show but 6 is my limit,hope you guys like it!again thanks shinobitron for sharing your recipe and being gracious enough to let me use it.brian you waited 10 years for this thing thanks for your seemingly limitless patience,thnks to everyone who checks this out and thanks to God above for letting me do what i love,god bless you guys!i feel like im forgetting something....hmmmmm...oh well,outty 5000 ninjas!