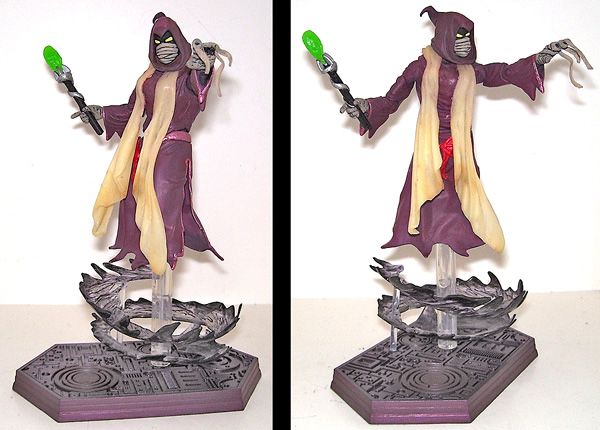 Like most of the characters from He-Man's (literal) sister series, She-Ra: Princess of Power, Shadow Weaver never got a 2002 update. That honor was reserved exclusively for the male villains (and TECHNICALLY She-Ra herself, although that toy was essentially just a minimal re-sculpt of the existing Teela figure, and an extremely rare con exclusive to boot). I felt it was high time some other PoP characters got some 2002 love, and Shadow Weaver was first on the list!

MOTU Hybrid is my attempt to unify the best of all three MOTU eras. The ideas (i.e. color schemes and concepts) of the original cartoon, the sculpts of the 2002 toys, and the articulation of modern figures, at a far more reasonable cost. Of course, for a character that never HAD a 2002 toy, the middle part is entirely discretionary. Well, not entirely. If I'm going to make a Four Horsemen character, I want to make it using a Four Horsemen sculpt. So, DCUC Desaad was really the ONLY choice.

So many MOTU fans make 2002 redesigns of characters in art or figures or fanfic or whatever, and they make them more and more intricate and armored and "darker and edgier" and all that. But they tend to miss that most of the Four Horsemen's designs are just the original character design with better detail and proportions. Look at He-Man, all they really did was add a pouch to his fuzzy-britches. Beastman? They just made him bigger and more gorilla-like. Only Randor and the Sorceress got full-on rebuilds. As they say, less is more, and that was my goal with Shadow Weaver here: take elements of the original cartoon, make a few logical tweaks and upgrades, and keep everything else the same.

In the original cartoon's back story, an evil magic gem caused Shadow Weaver's body to mutate into a beastly (but oddly enough, still quite shapely) form, forcing her to hide her hideous face behind a veil and hood. I re-imagined the character as an "invisible hag," an old woman who lost her physical form, and now conceals her ethereal body under tattered bandages and robes.

Body, main head - DCUC Desaad, legs removed, sculpted trim and face
Alternate head and cape - Marvel Select Moon Knight hood, shortened, carved with tears and scorch marks, fodder head, sculpted face
Alternate hands - Various fodder hands, sculpted bandages, "unraveled" hand is sculpted from scratch, fingers are hollow to demonstrate "invisible hand"
Sash - LotR King of the Dead sash, glows in the dark
Wand - SMC Kraven crossbow bolt, sculpted detail, plastic crystal inset on end
"Styrax" vulture familiar - Playmobil vulture, sculpted detail
"Shadow Coil" flight display stand - F4 Movie Invisible Woman "force blast" coil, ML flight stand, NECA MOTU mini-statue display base

I honestly COULD NOT be happier with the results here! Shadow Weaver came out EXACTLY as I planned, and she now has a place of honor on my MOTU Hybrid shelf.

For the honor of Grayskull!