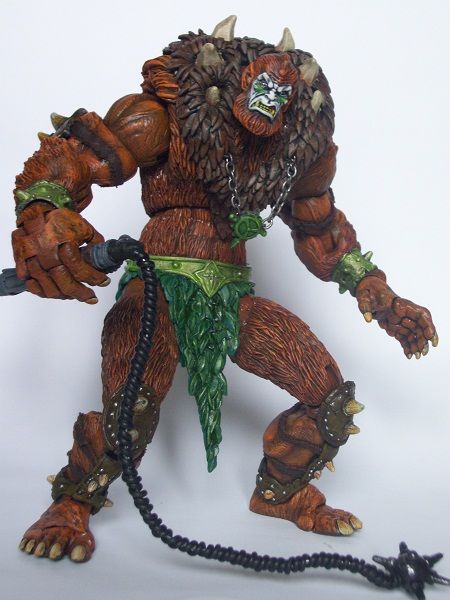 Inspired by the great beastmen of the past, suprasizmeme, boskoes and crisco, here'e my entry to the POG contest, he's always been a favourite of mine, I mean who can't love a massive orange fur ball?

Some extra notes now the contest is done,
First off, massive thanks to everyone who voted, not just for my Beastman but for all the entrants.
Secondly, another massive thanks to all the creators for all their fine work, so much eye candy, for me anyhow.

Also wanted to add the base figure had been languishing in my fodder box for around 2 years and he probably would have gone in the bin during my next fodder clear out, sooo glad this contest came around when it did as it gave me the motivation to get one of my favourite MOTU characters done.

I'll get straight to the recipe
Head = 200x Beastman

Neck = ML Beta Ray Bill, sculpted over.

Upper torso = ML Beast / Dr. Who Werewolf combination. sculpted all the fur on the body.

Lower torso = Dr.Who Werewolf, sculpted fur.

Arms and hands = ML Beast, sanded down to fit the bracelets and prevent paint rub. Sculpted to blend the bracelts.

Upper legs = Dr.Who Werewolf, sculpted fur.

Lower legs, knees and feet = ML Beast, sanded to prevent paint rub.

Collar = the spikes are from the 200x beastman, the underneath part is hemming tape, stitched together and the fur is all sculpted.

Loin, bracelets leg and arm aromur = 200x beastman, sanded to fit. The straps are from a starwars saesee tiin skirt.

Whip = handle from a 200x ice armour Heman staff. Earphone wire wrapped around a twistie tie and an unknown spiked ball on the end.

Paints and sealer = Games Workshop.

Really enjoyed working on ol' Beastie and am more than pleased with the results. Hope you all like and good luck to my fellow contest entrants.