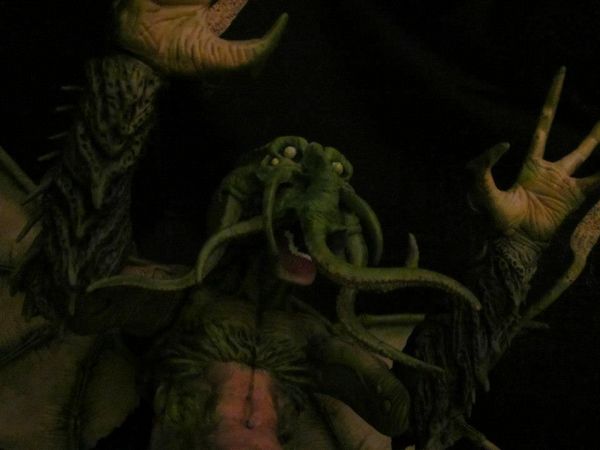 "Ph'nglui mglw'nafh Cthulhu R'lyeh wgah'nagl fhtagn"

"In his house at R'lyeh dead Cthulhu waits dreaming."

H.P. Lovecraft, Call of Cthulhu, 1928

Cthulhu is a fictional god, said to 'slumber beneath the waves' in a mythical sunken city known as 'R'lyeh'. He first appeared in H.P. Lovecraft's 'Call of Cthulhu', written in 1928. Cthulhu was described as a huge, flabby creature. He looked to be part man, part dragon, with wings and a huge cephalopod head, not unlike a cuttlefish or octopus. I've been wanting to do a Cthulhu figure for quite some time, and was astonished that there wasn't already one here (other than the odd MLP or alien Cthulhu homage.)

This figure is a commission by a return customer, who's husband is a HUGE H.P. Lovecraft fan. This figure stands at twelve inches tall, and boasts a completely original head sculpt, as well as a completely sanded and re-sculpted body.

I've never been a fan of the older Spawn figures, and this Malebolgia was definitely one of those. There were random spikes everywhere, big sloppy globs of glue, a REALLY ugly head with wispy, crappy hair, and fins on the back of the arms. All of it came off, and was sculpted over.

I added Annihilus BAF wings, repainted.

Head, torso, 'ribcage', shoulders, biceps and the crustacean-like armor (complete with barnacles growing on him as he slumbered and dreamed beneath the waves) are all original sculpt.

Tentacles are from a cheap rubber squid toy. The longer appendages are poseable.

Eyes, bio-luminescent marks, and 'hidden' symbols all along the wings and body glow in the dark or under black light, and are invisible in direct light.

Feedback is always appreciated!! Feel free to drop by my Facebook Customs page for more pics, as well as a few WIP galleries of Cthulhu, and all my figures so far at the link below!