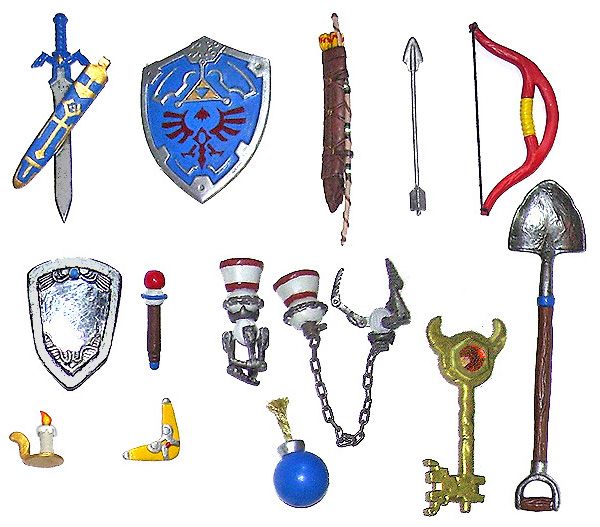 Hey! Listen!

Sorry, I couldn't resist.

Ladies and gentlemen, boys and girls, Realmers of all ages, genders, and nations, welcome one an all to my very own contest, the "Link's Custom Inventory Guessing Game!"

You've probably seen my recent "Legend of Zelda" Link custom action figure. Well, pictured here are a whopping 35 accessories that I created for the toy. THIRTY-FIVE ITEMS!! Can you IMAGINE the time I put into building 35 weapons, tools, and other assorted trinkets and treasures for my little Hylian Hero? So much time and effort and love went into the project that I wanted to make a separate post exclusively for the inventory. And even better, I decided to make a little contest about it! Thus, Link's Inventory Guessing Game was born! This contest ran from October 25, 2012 to November 1, 2012.

The rules were pretty simple; pictured below are 35 items that appear in the Legend of Zelda series. With a single, VERY obscure exception, EVERY GAME is represented . . . at least one item from almost every Zelda game EVERY PRODUCED is included in this inventory (no, remakes and Tingle spinoffs don't count). The participants' job was to tell me just what each item is, and what game it came from. 35 items, and 35 games, for a total of 70 points. Sadly, there weren't a lot of entries, only five people submitted a list (guess there aren't as many Zelda fans around here as I thought . . . or this contest was WAY harder than I thought), but I want to thank everyone who played, and congratulate the winner . . . Bad_Guy_Robot, who scored a staggering 69 out of 70!! He will be receiving a full-size, functional, ceramic ocarina, customized by myself to look like the legendary Ocarina of Time!

Told you guys there was an awesome prize for this contest. Now don't you wish you'd entered?

And just what are the correct answers?

Well, I'm not going to post them just yet. Because some people may still want to take a guess. Feel free to post your own answers, and if you get them all right, maybe I'll send you your own little consolation prize!

Again, thanks to everyone who played, and thanks to Figure Realm for allowing me to run this little game!