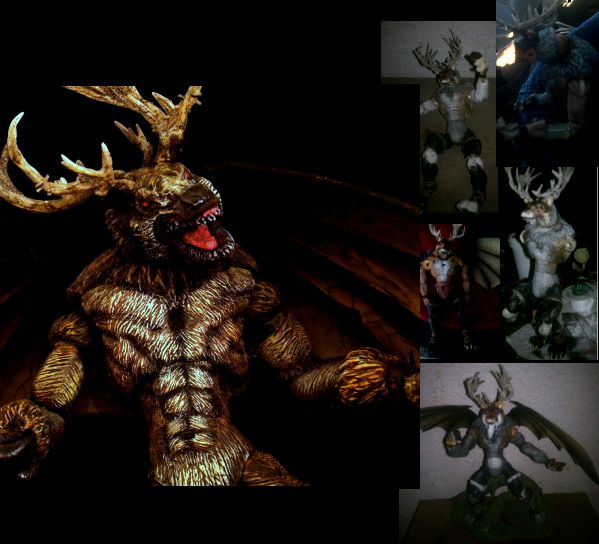 Weighing in at just under one pound and standing 11 inches tall hoof to horn, I present to you...THE JERSEY DEVIL! Move over Big Foot! this guy is no Yetti wanna be! This here is the real deal.
The Jersey Devil is a legendary creature/cryptid said to inhabit the Pine Barrens of Southern New Jersey. The creature is often described as a flying biped with hooves, but there are many different variations. Among them are that of a kangaroo-like creature with the face of a horse, the head of a dog, leathery bat-like wings, horns, small arms with clawed hands, cloven hooves and a forked tail. It has been reported to move quickly as to avoid human contact, and often is
described as emitting a "blood-curdling scream." It was said that Mother Leeds had 13 children and, after giving birth to her 12th child, she stated that if she had another, it would be the Devil. In 1735, Mother Leeds was in labor on a stormy night. Gathered around her were Mother Leeds friends. Mother Leeds was supposedly a witch and the child's father was the Devil himself. The child was born normal, but then changed form. It changed from a normal baby to a creature with hooves, a horse's head, bat wings and a forked tail. It growled and screamed, then killed the midwife before flying up the chimney. It circled the villages and headed toward the pines. In 1740 a clergy exorcised the demon for 100 years and it wasn't seen again until 1890. There has been a large number of sightings and encounters over the years. The last reported sightings were in 1960.
The Jersey Devil has worked its way into the pop culture of the area, even lending its name to New Jersey's team in the National Hockey League. When the National Hockey League Colorado Rockies relocated to New Jersey in 1982, a fan poll voted to rename that team the New Jersey Devils.

This figure was cancelled along with the rest of the LEGENDARY MONSTERS line when it's parent company NEVERMORE CREATIONS went belly up in 2001, leaving fans disappointed and an amazing collection of cryptozooology figures that made it past the prototype stage, all the way to product photos, and many toy sites before being scrapped. The series was to include...

Series 1:
Missouri Monster
Mothman
Jersey Devil
Chupacabra

Series 2:
Dover Demon
Yeti
Flattwoods Monsters
Loveland Frogmen

This figure is at a guess about 70% sculpted! Many joints were modded or added. The legs were cut at the knee and peg holes were drilled. He now has ball jointed knees added and sculpted/glued in. The wrist joints were flipped, drilled, and modded to better fit the hoove hands. The neck was extended and sculpted as well as a lower jaw sculpted and made moveable/articulated by drilling a hole straight through and using a wire for a peg. The arms were extended at the mid-forearm by cutting them in half, drilling holes to insert wire that was super-glued in, hot-glue for a filler, and sculpted over for stability. The shoulders were cut from the previous joint and added to the dremeled down pre-existing joints with a custom peg designed to fit and holes drilled through the shoulders then sculpted over. The head was from a static figure and had to be dremeled and drilled to fit the peg. The feet were re-sculpted into hooves. The waist was dremeled down and re-sculpted and lower abs were sculpted over to give it a longer torso appearance. Many parts were removed and the figure received a lot of sanding and modding.

RECIPE-
Upper half: Realm of the Claw Sabretooth w/sculpted Neck, Mane, Abs, Shoulder Blades, and Pelvis. Modded the Shoulder Joint.
Lower half: Realm of the Claw Panther w/ sculpted Mid-Thigh, Knees, Calves to Ankles, and Feet/Hooves.
Head/ Hands: McF Rudy w/sculpt.
Lower Jaw: Sculpted.
Arms/Wrists: WWE DA fig modded w/sculpt from Shoulders to Wrists.
Knees: ML fodder shoulder joints modded.
Wings: Nightmare Spawn.

This figure was sculpted using AVES FIX-IT and painted with MM Acrylics. Sealed with Krylon Matte after which the eyes, mouth, and hooves were covered with Tamiya clear for that wet/shiny appearance! Thank you all for looking and comments are welcomed! Good luck to all the entries and HAPPY VOTING!