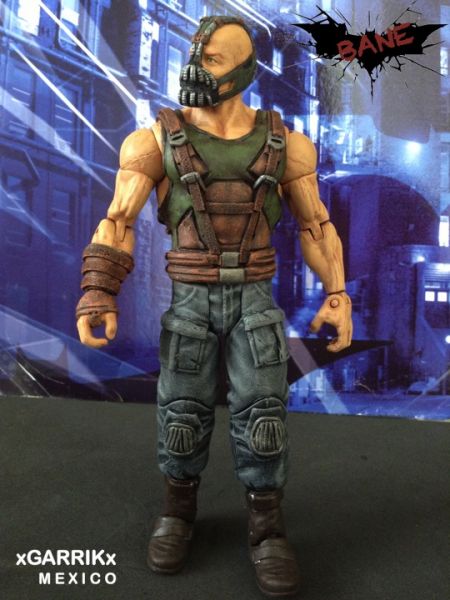 Hello realmers!!! Recently I bought a Movie Masters TDKR Batman in a flea market, although the price was not the price you could expect in a flea market, it was $13 dlls. Even though the sticker says "clearance price: 9 dlls". Anyway, I bought it because the only TDKR action figures that Mattel did bring to México were the 3.75 in. little action figures (very crappy btw).

So, It was great for me to find a Movie Masters Batman, although the price was not, as I said before, the price you expect to pay in a flea market.

"I've got a new MM Batman" - I thought... but then I realized It would be perfect if I could get a MM Bane, unfortunately there are to little possibilities to find one, so the only way to give a partner to my new Batman is... well, what I'll show you next.

On the custom.
____
I'm so happy with how this figure turned out because in the very beginning of the project I stated to use less fodder as possible and try to create as many as possibble using just epoxic clay.... At the end, I did it.

I used a Mattel WWE J. Cena as base, the head was shaved (thanks sandpaper) to make him bald.

Vest, belts, pouches, lower pants and the mask were fully sculpted, then painted using acrylic paint an finally sealed with a matte sealer.

Must say sculpting the mask was a REAL pain in you-know-were.

I insist, I love how he turned out, I hope you like him a little.

THANK YOU SO MUCH for looking... nos lets go to bed... C.U.