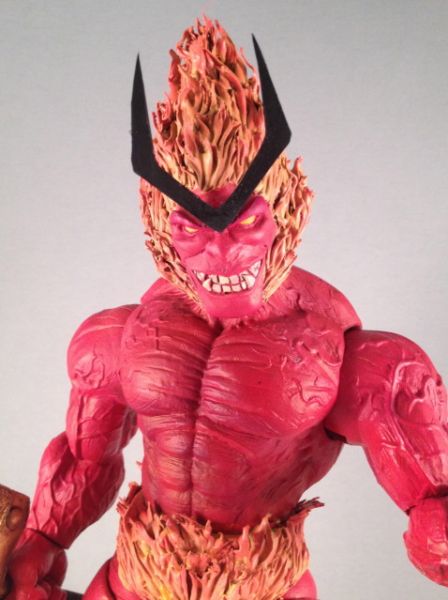 Always wanted to do a Surtur, but was very intimated by a lot of the necessities of making one. I wanted him to look evil, not just angry, so i sculpted his head completely from scratch. I've also always felt that hot glue tends to make fire look too "blobby", so i ended up sculpting all of that as well. I used green stuff instead of fixit for the flames, since you can pull and stretch it without it tearing like fixit would. His tail was from a cheap snake i got at walmart, and his crest is cut from styrene.

I knew The Twilight Sword would cause me some headaches as well. 1) because it would require a good amount of work on it, and 2) how he was going to hold it. The first problem was just a time commitment, and it was just a shape cut from styrene, and sculpt. The second was more problematic. I loved the base figures left hand, because its pretty expressive, but his right was just a fist, leaving neither capable of gripping the sword. Since i didn't have any hands that would work in this scale, I decided instead to make the sword work with them. I drilled a hole into his right hand, and made the sword so that the pommel is removable, allowing you to take it off, slide the sword into his hand, and then replace the pommel. I think it worked out pretty well personally.

Last thing to note on him is that it was my first time using an airbrush. None of my light box pictures seem to want to accurately show what his red tones look like (though the flames for some reason look spot on), so i included a not light box picture that inversely shows his skin correctly, but not the flames... sigh.