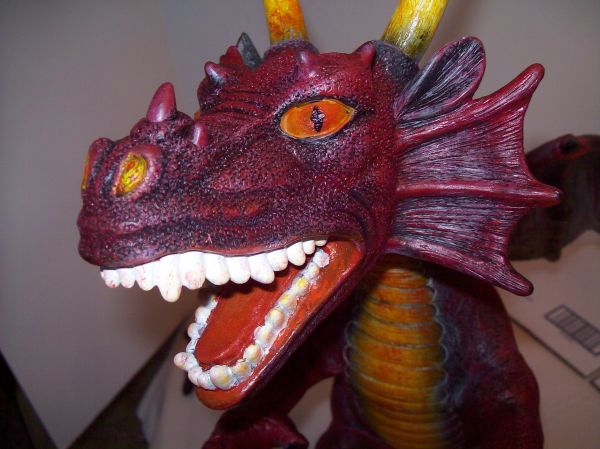 Hello everyone, I have been gone from here for a while, if your wondering why, I was opening my own LOTR themed store, a dream of mine, and trying to get it off the ground. My now main income is customizing, which is really an awesome job. So today I bring you a dream project of mine Smaug! the golden! From the Hobbit. Alot of work went into this guy, but I wanted him to catch peoples eye, as to attract buisness for my store. So far hes been doing fine. Well, now to the description. Several coats of a custom blend red, and bring out detail. Not sure if you can see or not in the pics, but there are about 4 different tones of red, yellow and orange in his nose. The scales on the front of his body are many different shades of yellow, red and orange to create an "airbrushed" look to it.Notice that in most areas, The mouth also has many shades of colors, red on the inside around and above the tounge, red coated in orange on the gums, and yellow hghlights on the top of mouth and tounge. The teeth were painted white, then hightlited with yellow, and then a little red. Ill include a pic of the original, so that you can see the difference. The eyes also includeabout 4-5 shades. as do the scales on back, and horns. Notice the pupils were done to match the shot of Smaugs eye from the end of the first Hobbit film. Stay tune for lots of new customs on their way. And, I am now taking commissions, so if your interested, I dont charge to much, and just PM me on the forum, find me on Facebook. Or just simply comment here.


Its great to be back with you guys, God bless! Thanks for looking!

-Galactape, or as I now go by, Middle Earth Emporium customs.