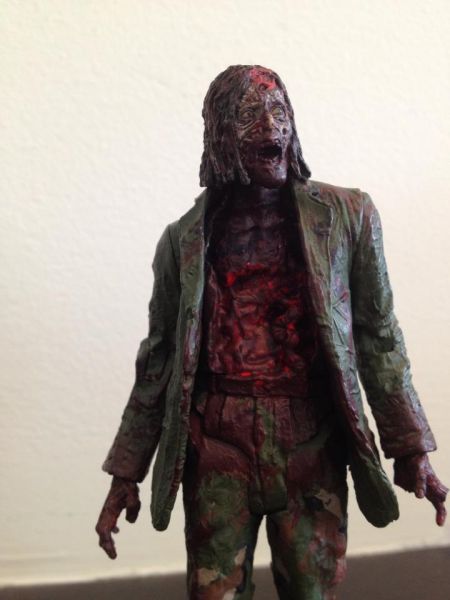 | | |
| --- | --- |
| Custom #: | 50887 |
| Name: | Lieutenant John Cooper |
| Custom Type: | Action Figure |
| Toy Series: | Walking Dead |
| Creator: | AMCTWD13 |
| Date Added: | June 19, 2013 |
| Base Figure: | Series 3 Autopsy Zombie |
| Height: | 5.00 inches |
Using a Series 3 Autopsy Zombie, I have constructed a very interesting military custom zombie by the name of Lieutenant John M. Cooper.
This custom was fairly easy to make an involved very little sculpting. What I did was paint his overcoat, undershirt, and pants olive green. After that I added a bunch of different colored paint blotches to make the walker's pants look woodland camouflage. This took time. After I let the figure dry, I paintbrush splattered blood-colored acrylic paint all over his pants and overcoat. After that I dry-brushed the figure with black paint to give him a sweaty and unclean approach (as seen in the last picture). After that I added a couple visible gunshot wounds with blood running down towards his lower body. This was fun and only took a couple of minute. Then, I moved on to the stomach where you can clearly see that this zombie had been disemboweled as a human. To do this, I squirted a line of pink acrylic paint on a non-stick object such as a glass plate, metal pan, or even a paint palette. Let your line of wet paint air dry for 2-3 days. After that remove the paint and mold it into slimy-looking intestines. The longer you squirt the paint onto the non-stick object, the longer the figure's insides will be. You can have them hanging to his feet! That is the cheapest way to make appropriate scale bowels. There are many other methods you can use. You can use apoxie/epoxy sculpt, sculpey, liquid plastic, instamorph, and much more. After I made my short, curly intestine, I glued it into the crease with crafts glue. Then, I poured bright red paint inside the "Autopsy Zombie's" autopsy hole. I let that dry for about 2-3 days. Then I painted dark blood over that but left some pink/red areas exposed to look like inner-organs and tissue. Other than that, I removed a couple fingers on its left hand, but that is completely optional. You can remove anything you want as long as you own a sharp knife/blade or X-acto knife. Go ahead an make your own if you want to, but if you show him off, please give me credit as this was 100% MY idea.

THIS CUSTOM IS FOR SALE.
THIS CUSTOM IS FOR SALE.
THIS CUSTOM IS FOR SALE.

John Cooper was leading officer stationed at Fort Benning during the early days of the apocalypse. For months, the fort was fully operational and housed over 200 able-bodied survivors. When a soldier outside the walls was bitten and decided to conceal his bite, all hell broke loose just days later. Soldiers and civilians began to unexpectedly turn and continued to infect more and more survivors. General Gros quarantined half the fort and locked down the command center and barracks. Without Gros in action, many soldiers gathered as much supplies as they could gather and abandoned their post. Only about two dozen or so stayed to fight. One of those men was Lieutenant John M. Cooper. Later that day, Cooper and his squad were brought down by a pack of walkers while trying to escape the fort. However, Cooper escaped after watching his entire squadron being torn apart by walkers. Shortly after, a patrol found Cooper disemboweled in the infirmary. As a zombie, Cooper left Fort Benning and wound up in Atlanta. There, he joined a large herd and was killed by Hershel Greene when walkers attacked his farm.

THIS CUSTOM IS FOR SALE.
THIS CUSTOM IS FOR SALE.
THIS CUSTOM IS FOR SALE.