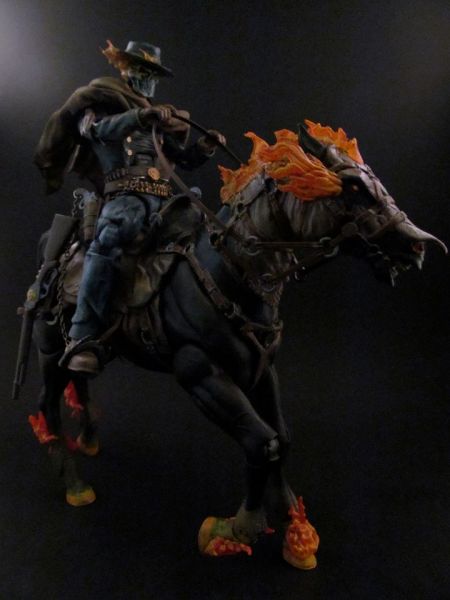 "...Their hot breath he could feel.. A bolt of fear went through him as they thundered through the sky...For he saw the riders coming hard and he heard their mournful cry.."

Western Ghost Rider! I wanted to do a take on the Western Ghost Rider that was a little different than the usual "Flaming hat and duster" variety that we've seen over and over.
I took a ROML Drax body, gave it some DCUC Jonah Hex arms, sculpted a 'bib front' shirt on him and painted it to look similar to the Johnny Blaze GR shirt to tie them together a little. I also wanted to connect him to future GR characters as well, so I included chains on his pistols, signifying that he is 'chained' to the 'way of the gun' for all eternity.

Instead of a duster, I decided a poncho would look cool. I cut off a piece of t-shirt, soaked it in a glue & water solution, and then shaped it until I got the look I was going for. Once it was dry, I painted it with a few different browns, and then even burned the edges with a lighter to give it a scorched look.

And what would a Ghost Rider be without something to ride? I took a Ringwraith's steed from a "Horse and Rider" set, repainted it and sculpted saddle bag as well as applying hot glue flames for the mane. I made two lariats out of jewelry twine- one for GR to use and one to attach to the saddle. There is also a spot where you can store GR's shotgun on the saddle as well. Flames on the front hooves are from a HML Marvel Girl figure, the back hoof flames and the eye flames are from a HML Human Torch figure.


Recipe for GR is as follows:

Head: ROML Ghost Rider
Arms, Hat, belt: DCUC Jonah Hex
Lower Belt, spurs, holsters, guns: Neca Jonah Hex
Flames: Hot Glue
Poncho: Old T-shirt, formed & painted over


Thanks for looking, and don't forget to check out the Ebay listing or the Heroes Assembled Facebook Page at the links below for more pictures!!

**Update!!** Added a few more pictures. Wanted to show the scorch marks on GR's cape. Enjoy, and thanks for looking!!!