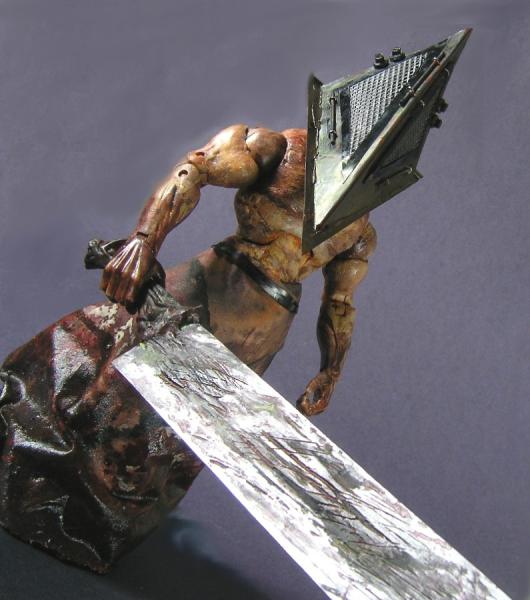 | | |
| --- | --- |
| Custom #: | 5374 |
| Name: | Pyramid Head Deluxe |
| Custom Type: | Action Figure |
| Toy Series: | Silent Hill |
| Creator: | N TT |
| Date Added: | December 16, 2007 |
| Base Figure: | Punisher Icon |
| Height: | 15.00 inches |
Positively it was in the suddenness of Pyramid Head's arrival, out of nowhere, like a hypothetical freight train trampling through the fabric of time, that the movie stopped being a movie and became some serious freaked out, terrifying deja vu, ouiji-board weird memory. Watching that scene almost felt like a suppressed nightmare materializing before you. And in its soundless rage, the monster does the unspeakable, carrying the biggest knife, since Dundee, and he stenches like rustic witches, blood and blasphemies. All is about agony with this Red God. Also known by the name on his library card: Xuchilbara, his appearance can only mean subjugation of the worst kind!
The torso on the Punisher figure was suitable for this custom, since the legs were used on another piece. By cutting the lower portion of a plastic bottle, substituted it for the legs and attached it to the torso. Canvas material was wrapped around for the apron, and once the acrylic and gloss paints dried, it hardened the skirt and enabled the figure to stand. Thick clumps of gel medium was mixed with some red/brown acrylic and generously applied over areas of the skirt to appear like brain matter, bestial refuse, upchuck.
Cutting a diamond shape from the corner of a blister package, the helmet was assembled with plastic & vinyl. Once glued together, the trimming was then sealed with apoxie for sturdiness. It was painted from the inside to leave the shine of the plastic on the outside and a dark red acrylic wash was given over top to leave it looking blood & rusty. The helmet is glued to the head of the figure and retains swivel movement.
The Great Knife was cut from a sheet of hard acrylic, then added some minor sculpt over top to show damage and distress. Sprayed black, with a scratch of silver metallic paint overtop. Gave a quick blood color wash for added realism. The hilt was sculpted with apoxie to resemble a prehistoric bone. Thanks for giving it a home here in the Realm!