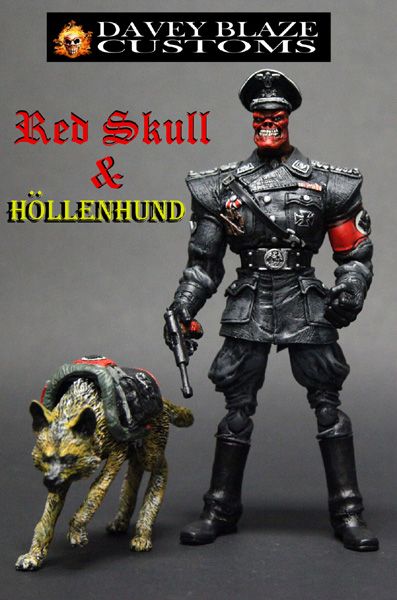 Here is my Newest Custom Set: WWII Red Skull (Reichsführer-SS Uniform) and Höllenhund, Red Skull's Loyal German Shepherd (Höllenhund is an original Davey Blaze Customs Character) with Battle Supply Pack. This, Like his Captain America Custom Counterpart, was a big Labor of Love for me. I just Love them as adversaries.
For this one I had a few goals. I wanted to create a Red Skull that had the physicality of someone exposed to Super Soldier Serum, and a Red Skull that was physically imposing enough to match up with my Classic Captain America Custom. I wanted to be as accurate as possible with the Historical details of putting him in a Reichsführer-SS Uniform, which would place him as second in Command, and kind of put a "time-stamp" on what point in the Characters Life this figure would represent. I also wanted to match or exceed the articulation of my Captain America, so that these would appear to be made in a Matching toy set and so that my main Captain America Universe characters would match up well as a set.
He comes complete with a Battle-Ready Höllenhund, who has his own FigureRealm page for more details on him.
Almost all of the costume details on the Red Skull were sculpted, including an Axis Rifleman's Medal (Infantry Assault Badge), tucked Blood Order Medal, Eagle and Skull & Bones on his Cap, the Cap itself (which is removable), his belt buckle and parts of his belt, Iron Cross, Chest Eagle Badge, arm Badge, Arm sash and Ribbon Bar and his Head is about 90% original sculpt. The Strap & clasps were added accross his chest & back and Jacket was modified, with sculpted Shoulder straps and Reichsführer rank neck tabs, pockets and buttons, and whenever possible the metal components of his costume (clasps on strap) are real metal.
The base figure did not have much articulation, so I added joints at the elbows, forearms, knees and shins and resculpted the lags and pants. All joints added to this figure were made of black plastic this time, so this is my first custom that can be posed as much as desired with almost no possibility of paint rub :) all my fellow customizers, you know what a pain paint rub can be! Red Skull comes with a Custom Walther P-38 with Miniature Red Skulls Sculpted onto both sides of the Handgrip.
There are alot more pictures on my website. I hope you all like Captain America and the Allies Greatest Nemesis...
..THE RED SKULL!!!!!!!

IMPORTANT: All of the Medals and symbols on this figure are present only for character and Historical accuracy, and are not present for any ideological reasons!!!