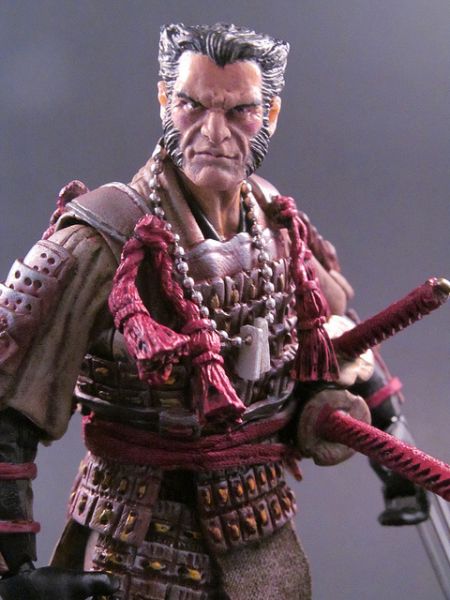 Made from a SWB Darth Maul, with REAL METAL CLAWS and 100% FULLY SCULPTED Samurai Armor, here is Samurai Wolverine!

Logan San comes with 2 pairs of hands, one with extended claws, and one pair to hold his Katana and Wakizashi.

Head is a cast from the Casting Cave, and feet are from a ROML Black Panther. Tassels & Swords are from McFarlane Samurai Wars/Manga Spawn figures, and the dog tags are from a Sota Guile.

The sheaths are made from straws; sanded and painted black, and his belt is cloth; painted and glued in place. His Daisho ('the long and short') are placed in the belt/sash according to how Samurai actually wore their swords, with the large sword's (Katana) curve facing the ground.

I wanted to keep the colors of the armor 'traditional' to the usual earth tones of Samurai armor, while using colors that are also associated with Wolverine.

Each tile/scale was fully sculpted, stitched, and then placed on the figure, as well as the hand/forearm guards (Kote), shoulder plates (Sode), and shin guards (Sune-ate).

The hip guards (Kusazari) that hang from the belt were attached by gluing a piece of ribbon up inside the upper torso of the figure, and then glued onto the ribbon itself. This gives the Kusazari free range of motion, so you can pose Logan-San without fear of the armor breaking off.

The thigh armor (Haidate) were sculpted right onto Darth Maul's robes, also allowing for good posability. The shoulder armor (Sode) were also sculpted plate by plate and glued in place.

Each stitch was rolled out of apoxie and then applied to pre made holes in the tiles.

This was a TON of fun to build, and I'm considering maybe making a Silver Samurai in the same fashion.

Thanks for looking, and I hope you enjoy!! Check out the link below for more of my customs on Facebook, and check out the listing on eBay for more pics and purchase info!!