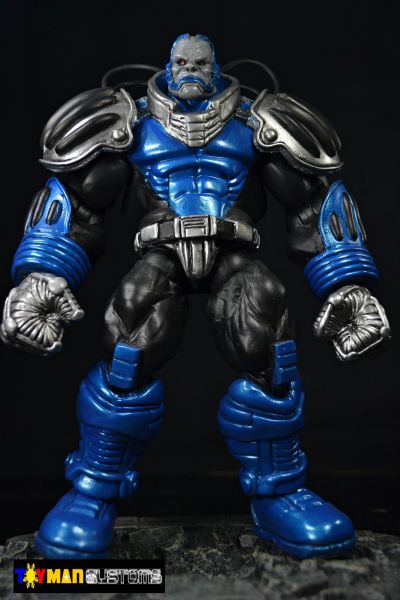 | | |
| --- | --- |
| Custom #: | 57788 |
| Name: | Apocalypse |
| Custom Type: | Action Figure |
| Toy Series: | Marvel Legends |
| Creator: | toymancustoms |
| Date Added: | January 27, 2014 |
| Base Figure: | hulk |
| Height: | 9.00 inches |
| Completion Time: | 70.00 hours |
| Articulation: | 32 points |
n the harsh, unforgiving desert of ancient Egypt, ruled by Rama-Tut, a band of nomadic raiders found an infant, gray-skinned and freakish in appearance, abandoned by the settlers of Akkaba. The nomads took the child for their own, giving him the name En Sabah Nur, "The First One," and teaching him to be "strong" in order to survive the desert as a child. This idea, that "the strong will survive," would shape Apocalypse's actions throughout time.
Enlarge Image
When En Sabah Nur was an adult, he was captured with his nomadic clan and forced into slave labor under the Grand Vizier Ozymandias. He quickly became a rebel and was even killed by agents of Ozymandias, only to be revived soon after due to his mutant powers. Believing himself "strong" and blessed, En Sabah Nur discovered Rama Tut's technology underneath Egypt, and soon destroyed the Egyptian rulers around him and twisted Ozymandias into the being he is today.

Apparently, Apocalypse would use Rama Tut's technology to "regenerate" for long periods of time, becoming more and more powerful when awakening. He was also known to have traveled around the world during these ancient years, appearing to various primitive cultures as their death god. At some point, when traveling through Mongolia, Apocalypse encountered a spaceship abandoned by the planet-judging aliens, the Celestials. His travels then became fueled by a single-minded purpose-- to find the key that would unlock the secrets to this alien technology. He found it in the person of Nathan Summers, then wandering various eras as the Traveler. The two fought, and although Apocalypse was nearly killed, he was saved by Ozymandias and taken to the Celestial ship. Apocalypse's blood had become infected with Summers' techno-organic virus during the battle, and the infection allowed Apocalypse to not only transform into an even more powerful being, but to also interface with the Celestial ship, claiming it as his own.

Powers
Apocalypse's full extent of powers remain to be revealed, especially to the extent of which powers have since been augmented by alien technology. Apocalypse claims to have control of his body on the molecular level-- allowing him to shape change and elongate with virtually unlimited range, to increase density and allow his body to mimic metals and armors, to teleport, and to be virtually immune to the effects of age. Apocalypse can also increase his strength to levels surpassing that of the Hulk, grow to giant sizes, and gain the power of flight, sometimes through turning his arms into wings or jets. Apocalypse can also transform himself into a variety of human disguises.

He has exhibited energy absorbing and projecting abilities in the past. Apocalypse has been termed an "External," due to his mutant ability of immortality. Briefly, Apocalypse has shown potential to be a powerful psionic.
It has further been hinted that Apocalypse's body is ravaged by a techno-organic disease. Many of his regenerated bodies must use an exoskeleton body armor to prevent his energies from consuming him. Apocalypse can apparently merge/switch host bodies to continually revive his self-consuming body.

SCULPTED AND PAINTED BY TOYMAN ARTIST SANNY ALOJADO BLANCA!!!!!