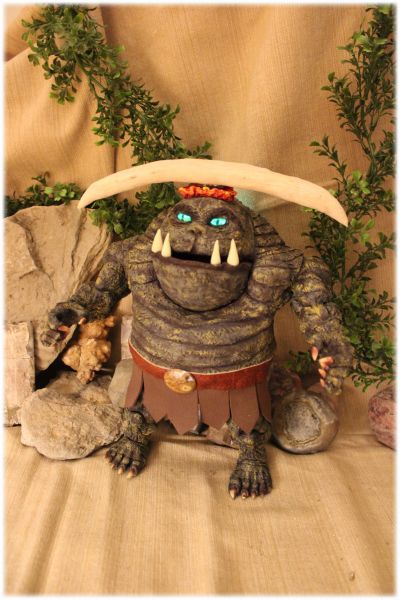 Ash-Mor-Mau translates from the Black Speech as One Black Warrior. Born of Burzum, mother of Darkness, daughter of Morgoth, who also spawned the Balrogs from her womb. Gorolog, King of Trolls, fell madly in love with Burzum, and Ash-Mor-Mau was born of this union, a troll who can walk in the light, as seen in the battles in the third book, LOTR, "Trolls were abroad, no longer dull-witted, but cunning and armed with dreadful weapons,", pg. 44. Ash is the first-born of the Olog Hai, resistant to the sun, father of a new race that spreads terror for Sauron. Only his progeny can walk free in the light, making his tribe of smarter, tougher trolls the new dominant race.

Ash is huge, even for a troll, and he kills and eats all other creatures that he meets, even giants and the other monsters of the Ettenmoors. His skin is stone, but he does not fear the sun, for he is Olog Hai, different from other trolls. He travels the Moors with his monstrous mother Burzum searching for the weapons and loot that make him happy, fighting with giants and dragons for fun.

Ash was made with a baby doll body, marvel select abomination arms and legs, and some poundage of Apoxie. His lower jaw is fully functional, sculpted over a plastic whiffle ball, hinges from roofing nails and beads. His huge mouth is connected to his stomach, which is fully painted and finished for the comfort of those he consumes. His eyes are yellow cats-eye marbles with a light, switch on back of head, green led, horns and teeth are glow-in the dark sculpey III.

Based off of the goblins from 1977 Rankin Bass Hobbit cartoon, Juggy select for scaling only, thanks for looking!