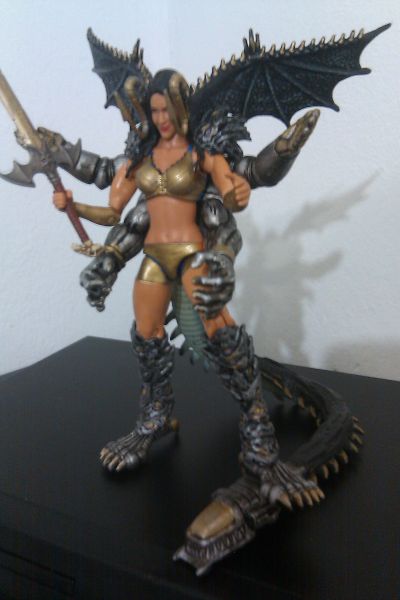 | | |
| --- | --- |
| Custom #: | 59348 |
| Name: | The Nameless , Goddess of Death |
| Custom Type: | Action Figure |
| Toy Series: | Original |
| Creator: | En-Ryu-Oh!2061 |
| Date Added: | March 16, 2014 |
| Base Figure: | WWE Rosa Mendez wrestling figure |
| Height: | 8.00 inches |
| Completion Time: | 3.00 hours |
| Articulation: | 15 points |
Good Day guys!, Today I present you yet another of my strange and fantastical creatures, this time a totally original concept, ever wonder what would the offspring of gods from different pantheons look like?, well allow me to introduce you to the daughter of Seth (god of the desert, storms, disorder, violence and foreigners in ancient Egyptian religion) and Kali (dark and violent goddess of Time and Change) with such dark and destructive parents one would think their "love?" child will be a creature of apocalyptic heights and you wouldn't be wrong, that's why when this extraordinary (and forbidden) events take place the newborn is destroyed (executed, sacrifice, you get the idea!) in order to prevent a possible cataclysm (or a war between gods and pantheons) , abandoned and left to die, all that was left was for The Grimm Reaper (agent and representative of Death for all pantheons and religions) to finish the job, and just as he was to give her the Kiss of Death (the most benevolent way of the Reaper's "gifts") the baby girl opened her eyes and stare directly at the grim face in front of her and the Reaper halted and took her in his arms and walk away, that day he saw in her eyes something and legends tells one could glimpse a wicked smile in his bony face, perhaps a way to be free from so many masters . Centuries passed and this Nameless child became death's apprentice and heir to all his dark arts, ever silent he nourished her hatred for the gods of all religions, free of their rules and belonging nowhere she became a force of nature itself deadly, wild and destructive, the reaper couldn't be more proud of his forbidden step-daughter, his weapon against the gods . Well that's her story and now her formula, I used as base body a WWE Rosa Mendez figure took off her boots and replace them with hollow rubber leggings from a Witchblade figure extras (shoulder pads are also from the same figure) cut off the wings of a "How to Train your Dragon" serpentine dragon and decided to go in a unique way (inspired by one of the anime Devilman's nemesis) put them in her head and also attached the long and very articulated dragon tail to her back, could stop there but then I saw an Ultraforce NM-E figure (got it for customizing months ago) and used it to give her a more mythical look, attached all 4 arms (sorry no articulation) like a deva statue, cut and put it's feet into the bottom of the hollow leggings , added two small tail horns as head ornaments and combine NM-E head with the dragon tail, finally and complete the figure painted gold her clothes, arms, sword, nails, horns and spike scales to add a brighter spectrum (godly?) to her, got to admit I used almost every tick in my book on this one, but she look fantastic and is now one my favorites, so here hoping she becomes your one of favorites too, Thanks .