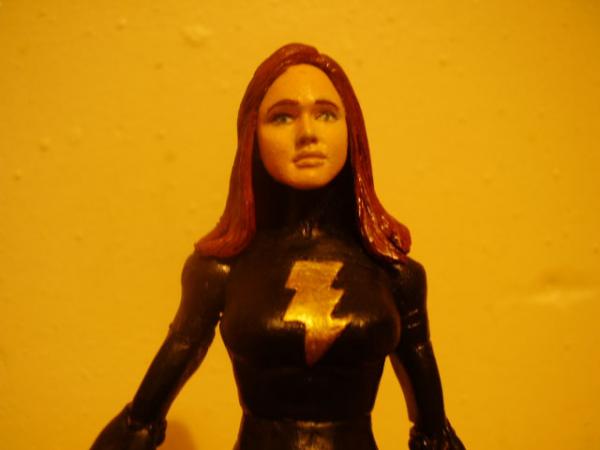 At the end of the Day of Vengeance, the Rock of ages - the source of the Marvel family's powers - was destroyed, causing the Marvels to loose their abilities.

Mary was flying three miles high at the moment this happened.

Miraculously surviving the fall, she was left in a coma. Eventually recovering, she found that her powers were gone, and set out to get them back. Mary soon found herself in Gotham City at the ruined embassy of the former country ruled by Black Adam, Kahndaq. Ever since being cut off from his own powers and Marvel changed his word, Black Adam had been hiding inside the building, killing anybody who wandered inside.

A confrontation between the ended with Adam uttering the word 'SHAZAM' - and his powers, along with those of his dead wife Isis, transferred to Mary. Suddenly finding herself more powerful than ever, this transfer affected her mind too - making her a much darker, angrier person.

Mary set off to find a tutor, knowing she needed help in controlling her new abilities. An appeal to Zatana saw her thrown out of her home, Shadowcroft, after Mary attempted to absorb all the power from her library. At a loss she, she accepted the offer of The Atom's ex-wife, Jean Loring, know known as Eclipso - and the murderer of Sue Dibny, the Elongated Man's wife...

The first DCD Supergirl body, smoothed and sanded to remove the gloves down the arms. Sculpted Lightning flash, and I can't recall if I used her original head or swapped it for another one...