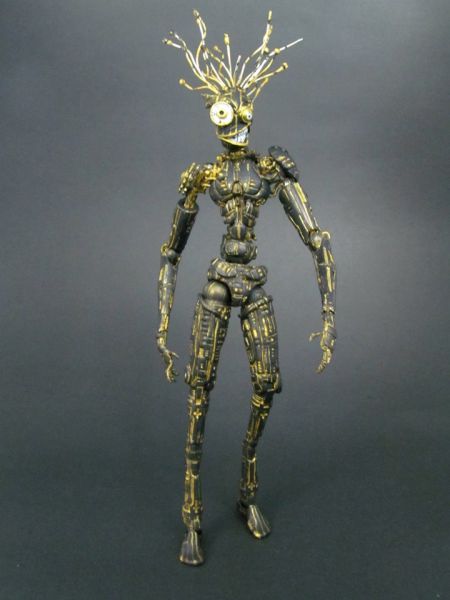 Another addition to the famed Giusti collection, here is Warlock!

Giusti was pretty excited when he saw Warrack's version of this character (like pretty much all of us were..), and asked me if I could make one similar to it. Out of respect for Mr. Warrack, I decided to go a completely different route in the design, showed Mr. Giusti the WIPs, and we had our Warlock on it's way to completion!

This was probably one of the more 'Frankensteined' customs I've ever made. Check out the details below:

Head: A shaved down Superior Spidey, and then fully re-sculpted. Wire cut, painted, and hot glued for hair.

Torso: T3 Terminatrix, with the arms cut off at the bicep to form pegs.

Arms: I took off the hip articulation on the legs, drilled the peg hole a bit wider on the thighs, and plugged them onto the biceps. I then took revoltech joints, plugged them into the knee socket, and plugged the lower legs in to make the fore-arms. I took the feet off, replaced them with pegs, and plugged the hands in there.

Ab-crunch/hips/crotch: I took one of the spider legs from the Mojo ML BAF figure, and cut off the leg just below the molded joint. I crammed that up inside the Terminatrix toro, and hot glued it in place.
I then placed the bottom inside the waist area of a ML Constrictor hip/crotch area, to give it it's waist swivel. I sculpted on details to the ab crunch, so it no longer just looked like a big silver ball.

Legs: Upper legs are Marvel Select Black Spiderman, sculpted over. Lower legs are two sets of Terminator Salvation T-800 legs. One set I plugged into the knee hinge as normal, but the other set I turned upside down, removed the feet, and attached the two 'feet' holes together with a peg. This give the lower leg an added 'boot' swivel.

Feet: Superior Spider-man feet, attached with revoltech joints.

Shoulder pad- XMC Cyclops

Buzzsaw hand- Mr. Fantastic 5" movie figure

I then painted the entire figure gold, and flat-brushed the black over it so the gold would show in the recesses of the figure. This figure was a blast to make, and probably my most posable figure to date!!


If you follow the link below, it will take you to the photo album on my Facebook page. You can also check out the WIP albums there, as well as the albums for all my other figures!

Thanks for looking!!