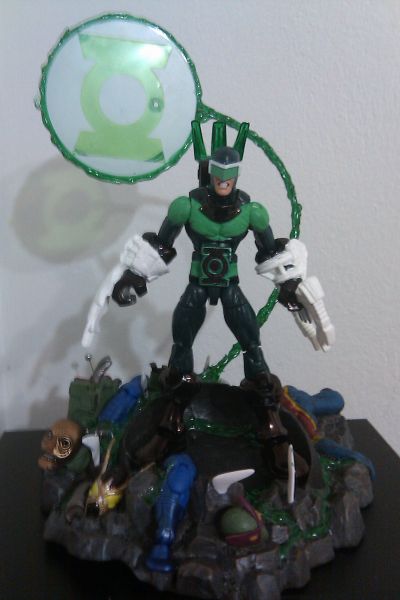 | | |
| --- | --- |
| Custom #: | 60344 |
| Name: | "GLX" (Green Lantern X-Treme) |
| Custom Type: | Action Figure |
| Toy Series: | Green Lantern |
| Creator: | En-Ryu-Oh!2061 |
| Date Added: | April 13, 2014 |
| Base Figure: | MLI Boomerang |
| Height: | 7.50 inches |
| Completion Time: | 36.00 hours |
| Articulation: | 26 points |
Hello my friends! , The 90's were the Age of the "X-treme" (violence , corruption , deception and of course the anti-hero) crime was so bad that we didn't counted anymore on regular heroes , every super-hero , no exception ,had a more violent darker version of himself , so on that note , I present with a classic 90's darker version of a Green Lantern (with a twist!) , When Hal Jordan goes insane (due his inability to save Coast City , plus being possessed by Parallax) and destroys the Green Lantern Corps in order to obtain the power necessary to literary change everything , the Guardians decide to put in motion a desperate plan in motion and activate the original prototype power ring , a weapon so powerful and unstable that the Guardians had to keep it hidden in an alternate universe *the Marvel Universe), and created a genetic engineered being of all their combined DNA (a "Great Guardian"), unfortunately like the Ring he too was "extremely" dangerous and rebellious for them to handle , so the synchronize their life force to balance each other , keeping them dormant and at peace (however there was a risk involved , should they actually touch , they would become one ultra powerful omega level creature of pure power and destruction (a god of death!) , their two most shameful sins , far and away (and their own ultimate doomsday weapon) , now with Parallax closing in and with nothing to loose , they're about to let the "devil" free and nothing will stand in his way ... "In Brightest Day , In Blackest Night , No Evil Shall Escape my Sight , Let Those Who Worship Evil's Might , Beware My Power , Green Lantern ("X") Light!!! ... GLX is Coming!!! ...May God have Mercy on us all , because he won't!!! . Well after so many female customs I guess the testosterone kick in , and I needed to do a guy , The body is a MLI Boomerang , the hands were extras from a Marvel Mashers Wolverine , the feet were from a Thor of the same series and to add a little touch of mystery I put a combination of mask/collar around the front of his neck (depending how position his waist and neck he will appear masked or unmasked , painted him with the traditional GL colors ,plus added a light up accessory that he can use in various parts of his body (another Masher part from Wolvie ) people critic the Marvel Masher , but I find that for parts they're a underused gold mine . Lastly I made him a custom base using as core the Amazingly cool base of the Marvel Select Superior Spider-Man , add some more heads and body parts from my fodder bin , combined wire with a standard GL base and hot glue painted in green (marker) for power FX , put all together and we have a 90's X-treeme Green Lantern stuck in the Marvel Universe and on his way to Oa (and the DC universe) to deal with Parallax and the Guardians , hope you like this Crazy Psychopath as much as I do (he was fun!) , Thanks!!