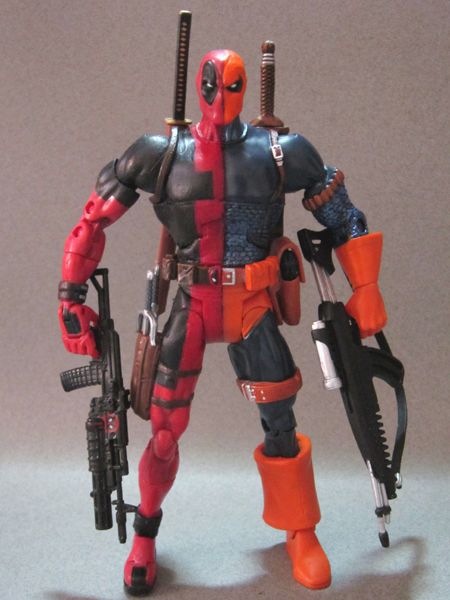 This is the Composite Deadpool/Deathstroke or simply "Compounded-pool". He's similar to Compound Hulk which is half green, half red & Composite Superman who is half Supes, half Bats (see pics of them below)

Deadpool Wade Wilson was originally created as a spoof of Deathstroke Slade Wilson. So why not fuse them together!

Did the molecule manipulating alien called Impossible Man use his Compounder ray again (from Hulk #30)?

Maybe the mischevious Mr. Myzptlyk magically merged these mercenaries?

Or maybe an action figure customizer just imagined something twisted and original to add to the Deadpool Daze contest.

Whatever the origin may be, both Wilson boys Wade and Slade are closer than ever. They now share one head, one heart, and one... well you get the idea. This new amalgamated assassin is deadlier and more talkative (talks to himself more).

Recipe:
Head with sculpting and all of Right side: arm, leg, belt, sword, gun – ML Deadpool
Torso with sculpting and all of Left side: arm, leg, belt, sword, gun – DCU Deathstroke
Repainted after figures were combined

You can call him "Swade Wilson", "Deadstroke", "Deathpool", "Strokepool", or you may even call him "Half-body Half-stroke Half-pool" but never get on his bad side (either side) or else he's double trouble when he gets p**sed off!


***Update***
Thank you to everyone for the votes and comments on this during the Deadpool Daze Contest. I was not expecting it to place as it did (Gold!) It was just an idea I had for something different, so I hope both Deadpool and Deathstroke fans will appreciate this fusion character.